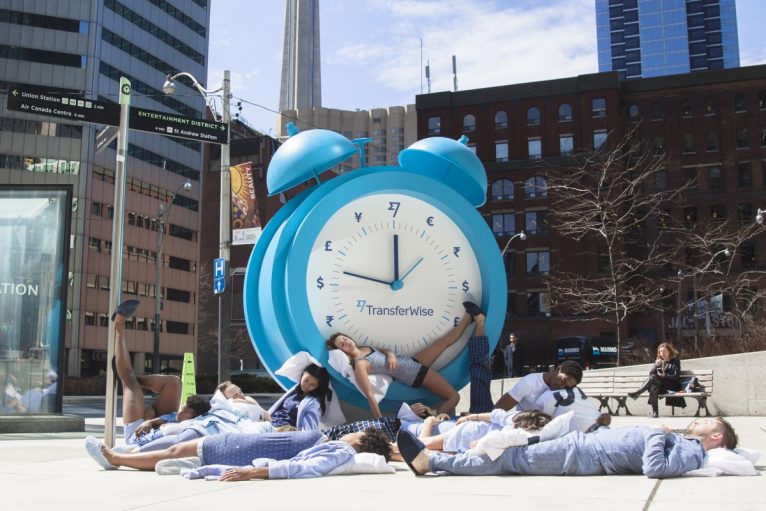 As we're sure you already know, Tigris does a lot more than provide great talent for events. In addition, we create and plan all the logistics behind some of the amazing events we staff. Heading into 2017, one of our 'New Years Goals' was to team up with more clients to plan high-impact, newsworthy events. Experiential marketing Toronto is one of our greatest talents. We want the world to know what we are capable of!
Coincidentally, at the end of January, we received an inquiry from a UK based film company looking to "produce a PR Stunt / Experiential activation in a few months' time and need an agency to guide and support us." He was flying from London to Toronto and wanted to meet up with Tigris. Our CEO was away so our account director and marketing manager met with him and his client from TransferWise the same week.
Seal the deal – boutique style
Bigger isn't always better. Our friends from the UK were happy to hear we're a boutique style agency, with 6 staff in head office and 2,000 part-time events staff across Canada. What you see is what you get. Our clients had the comfort of knowing they would be working directly with who they were meeting from start to finish. With other experiential marketing Toronto agencies, our clients were concerned they would not get the same quality of service as Tigris could offer. We pride ourselves on our ability to build strong relationships with our clients and make sure they feel like a priority, no matter the size or scale of the event. From the get-go, we were eager to share our ideas with our potential clients – they left with pages full of notes which they were extremely appreciative of.
Executing the idea
TransferWise developed an idea for their Canadian launch, and it was nothing short of big and splashy. TransferWise enables customers to transfer money abroad quickly and easily with low-cost money transfers. Banks and other providers often add a markup to their exchange rate while advertising low fees, which means you could be paying huge hidden charges. TransferWise transparently displays its fee upfront and deducts it before conversion. No nasty surprises and more money in YOUR pocket. What could be better than that?
In 2016, Canadians sent over CAD$30 billion out of the country. More than CAD$1 billion of that went into banks' profits due to misleading fees and bad, often undisclosed, exchange rates. TransferWise was born out of frustration with how the financial system is bogged down by such unfair practices. This does not need to be the norm. Newswire, 2017
To bring their concept to life, Tigris was required to cast a huge group of talent to dress in pyjamas and sleepwalk throughout the Toronto financial district. Tigris sourced 10 beds and a larger than life sized alarm clock (10 feet and 500 pounds, to be exact) to leverage as props and decor. At the end of their destination, the sleepwalkers 'woke up' and realized the bad exchange rates and hidden bank fees they were being charged by the big banks. Let's skip to the final video to show you exactly what we're talking about.
#WakeyWakey Canada.
So, how did we pull this off logistically?
As you can see, there are a lot of components to this video – even for an experiential marketing Toronto style shoot. Helene, our creative mastermind and logistics guru, had a lot to source in a tight timeline, all while finding the best rates possible. She sourced the following for the shoot – 10 twin bed frames with mattresses, bed linens (10 sheet sets + 84 branded pillowcases), 114 feather pillows, slippers, and a 10ft to-scale clock. We also rented a hotel room for staff to get changed in over the 2 days of shooting.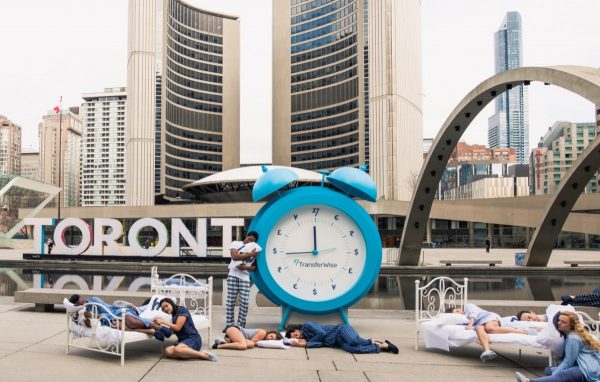 Our head office assembled the beds (shout out to anyone who has ever assembled IKEA furniture) and we worked with our vendor to design and develop the clock. We sent weekly progress pictures of the clock to TransferWise for them to approve any and all artwork. When the clients saw the clock for the first time in person on April 4th, their faces were priceless. The photos simply don't do it justice!
And how did you select those enthusiastic sleep walkers?
In addition to decor and logistics was talent! As you can imagine, sourcing and selecting 80 staff for the stunt took some time. Experiential marketing Toronto is no joke! On the pre-shoot day, April 5th, 10 extremely daring and enthusiastic staff were required along with 70 staff and 6 assistants for the grande finale the following day. When reaching out to talent, we asked them the following questions:
Are you extremely outgoing/daring and willing to:
wander into a supermarket in their boxers and climb into the frozen pea section and fall asleep?
fall asleep on a stranger's shoulder on the subway?
sleepwalk to the front of a queue in a shopping centre?
brave the cold on some of the skimpier outfits (tank top silk nightie/boxer shorts)?
As you can imagine, we got some mixed reactions from our team. We worked on compiling a mix of ages, talent and ethnicities that would be suitable for the event. The talent selected for April 5th (pre-shoot day) were required to sleep in random places around Toronto including Union Station, Nathan Philip Square and outside of the big banks. Needless to say, security was not enthused.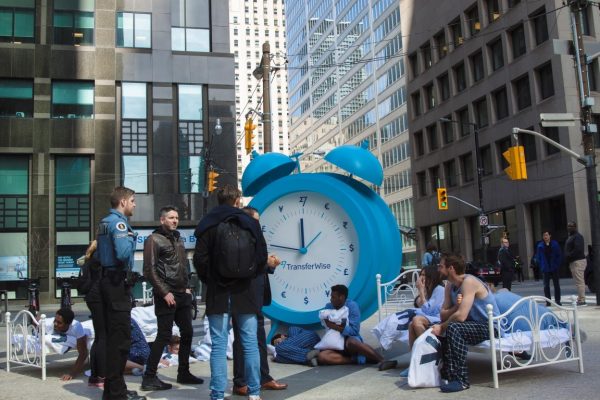 On April 6th, the sleepwalkers walked through the underground PATH during morning rush hour to their destination, Brookfield Place. Once there, they listened for their cue (a large air horn) and broke out into a massive pillow fight – playing their part of 'waking up' to hidden banking fees – to a tee. Can you image a pillow fight with 70 people in pyjamas? We've got the footage to show you – and yes, we were live on the news!
You always need a backup plan.
Because our clients aren't local, and due to the high volume of staff, our dates were set in stone. Therefore rain or shine, this was happening. Thankfully, the sun was shining on April 5th for the pre-shoot outdoors. Initially, the long-term forecast had said 3 degrees celsius with snow! On April 6th, the original plan was to shoot outdoors, but this was scrapped when we saw the call for rain. A new plan was developed and we believe it made even more of an impact to do the pillow fight indoors – what do you think?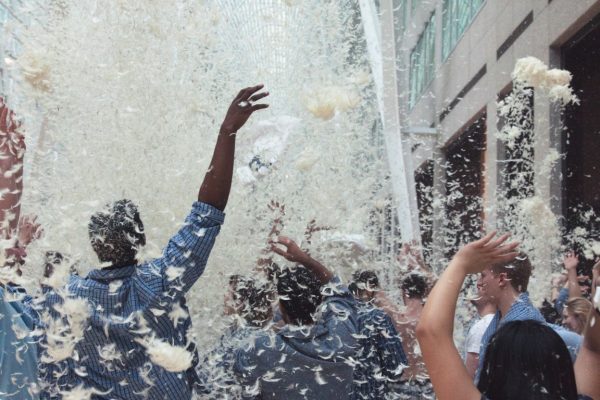 Experiential Marketing Toronto :: What's Next for #TeamTigris?
As an experiential marketing Toronto agency, we couldn't be more proud of the final product. The video we co-produced with ManyMakers hit 325,000 views in 5 days – not to mention the 55,000+ views on our own Tigris Events fan page (15,000 organic and 35,000 with an ad). Our goal is 1,000,000 views and we are confident we will hit it by the end of the month!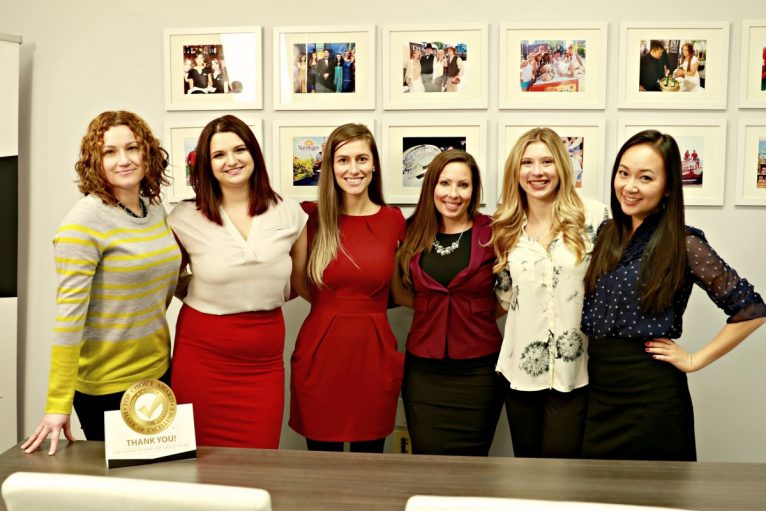 The number 13 comes with negative connotations; take Friday the 13th for example. However, there's nothing unlucky about this Canadian Experiential Marketing Agency's 13th anniversary; we have so much to celebrate! As of March 31st, we've staffed over 140,000 hours for close to 600 clients. This July, we are taking possession of a new office space that will allow us to double in size. In addition, after ten months of development, Tigris will be launching our new staffing software to streamline our current system.
As you know, nothing worthwhile ever comes easy. To learn more about our company history, read this personal message from Serena Holmes, Tigris President & CEO. You'll discover how her journey began, and why our team is so grateful to work alongside such a powerful female entrepreneur.
Highlights from our 13 Years as a Canadian Experiential Marketing Agency
In our boardroom, we have a highlight photo from each year hanging on the wall. Along with showcasing the various hairstyles over the years (haha), this wall motivates us to keep aiming higher. It also reminds us of our achievements as a team and the types of events we see ourselves executing in the next 13 years.
We'd like to share this motivational wall with you, giving our clients and brand ambassadors the recognition they deserve. This Canadian Experiential Marketing Agency is built on teamwork, trust, and many talented individuals.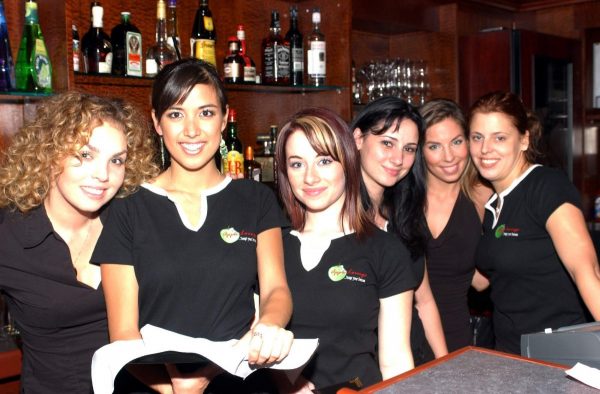 2004 Apple Lounge
In 2004, our team was quite small. One of our main events was providing management and cocktail servers for the Apple Lounge and steakhouse grand opening. Upon arrival, guests were given an "Apple Invitation" and a complimentary drink voucher. There was over 100 people that attended this night!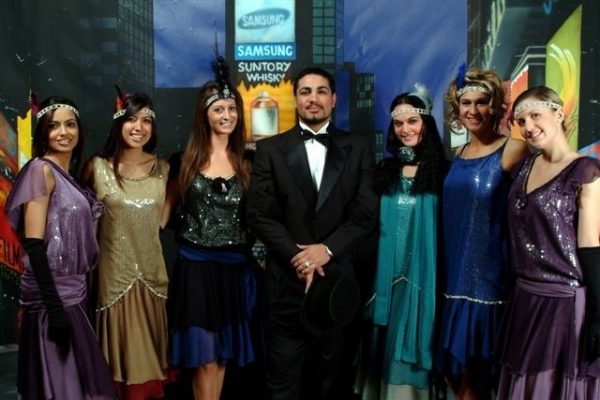 2005 KRG Children's Charities
Event planning has always been part of our roots. For KRG Children's Charities, we were responsible for planning an entire gala from start to finish. This includes sourcing the catering, venue, personnel, volunteers and entertainment. In addition, Tigris managed sales, games and a silent auction. Invitations were designed and we sourced promotional giveaways and guest entertainers.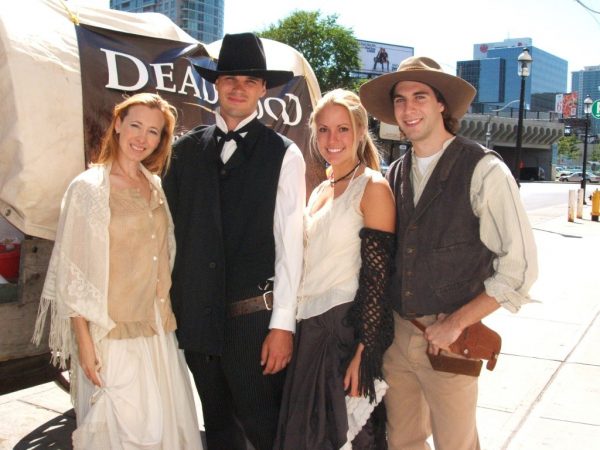 2006 Krista Slack and Associates
You know we love big and splashy outdoor promotions! In 2006, we teamed up with KS&A to provide talented, outgoing staff to promote the TV show Deadwood. Back then, we called our staff 'Tigris TSS' – temporary sales staff. This promotion took place over 4 days before the premiere on Labour Day. Equipped with Western accents, our team engaged with pedestrians and asked them themed questions such as, "Where's the nearest saloon? That trail dust has me damn thirsty!".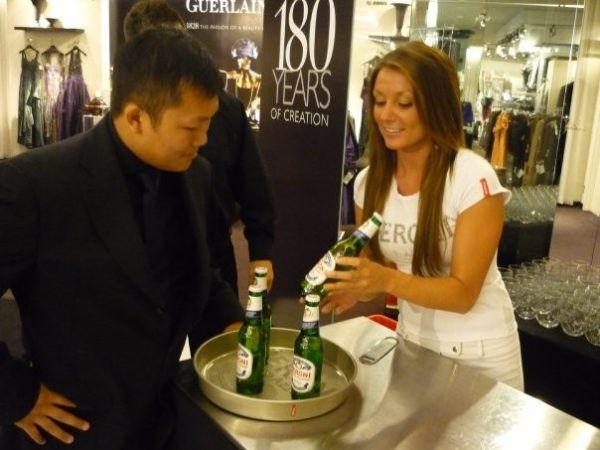 2008 Peroni Sampling
Tigris teamed up with Speed Promotions to book a team of "Italian looking" exotic promotional models for the launch of Peroni Beer in Canada. With 34 executions in Toronto and 19 in Vancouver, the promotional models were busy at bars and restaurants in each city. While onsite, the promotional models sampled the product and communicated important key messaging to distinguish the high-end brew from others on the market.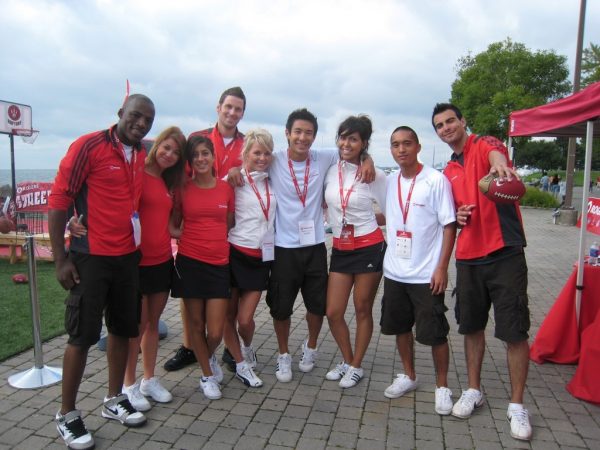 2009 Rogers OP Sports Week
We love this happy bunch! Above, you can see 6 brand ambassadors and 3 event managers. This team worked with Rogers and Fan Fair to execute an engaging two-week experiential activation at Ontario Place. They managed a series of free games for children all tied into the top local sports teams. Over two weeks, our team gave out over 10,000 prizes and flyers!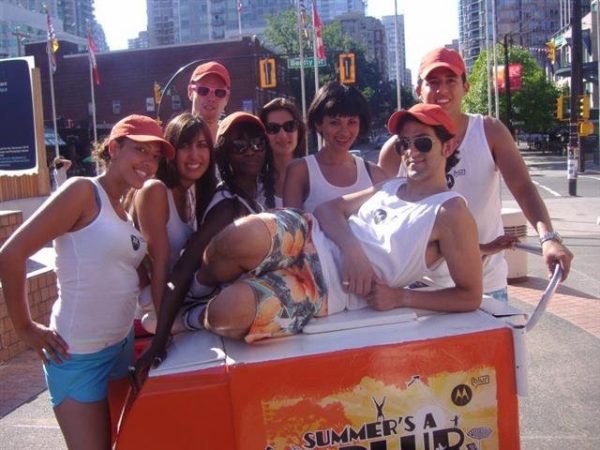 2010 Summers at Blur Motorola Promotion
Tigris teamed up with Hill & Knowlton Strategies for a summer street promotion called MOTOBLUR. Consumers were asked to 'like' the Motorola Canada Facebook Fan page for their chance to win amazing prizes.
Tigris was proud to represent Motorola on the streets of Montreal, Toronto and Vancouver to promote the online initiative. The teams of brand ambassadors rode around on dickie dee's to hand out 30,000 flyers and popsicles. The goal was to cool people down on a hot day and heat them up with excitement about the amazing contest during the blitz of each city. Needless to say, the public absolutely ate up the program – and our popsicles! They loved the concept of the program, eager to sign up online.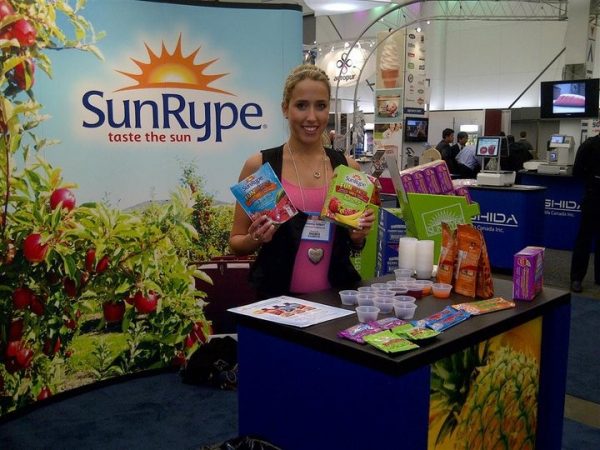 2011 Sun Rype Promotion
This was the 5th consecutive year our bubbly promotional model sampled Sun-Rype's new juices and fun bites at the Grocery Showcase West Tradeshow. Our temporary trade show staff are food-safe certified and help push sales through key messaging at each event. Working with this delicious brand was always a treat!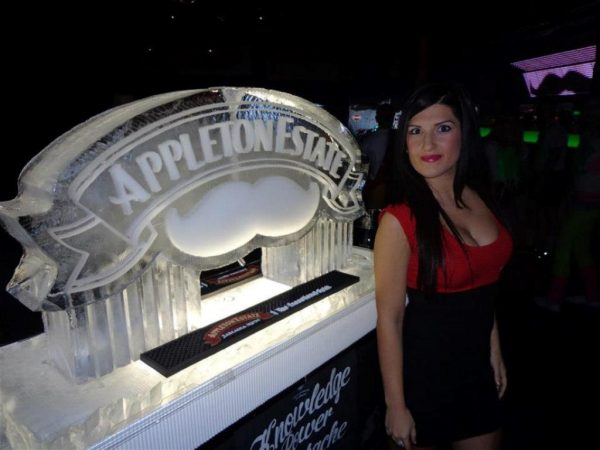 2012 Appleton Promotion
Tigris began working with Peter Mielzynski Agencies in May/12 to provide promotional models to execute their sampling events for Appleton Estate Jamaica Rum. You may recognize the woman in the photo above – that's Evangelia, who worked in the Tigris head office for 5 years!
In addition to providing a team of stunningly beautiful, knowledgeable promotional models to serve Appleton mixed cocktails at restaurants throughout the GTA, we also managed supplies, set up and tear down. Each promotional model was responsible for discussing the brand while offering samples to patrons at the bar in order to promote sales.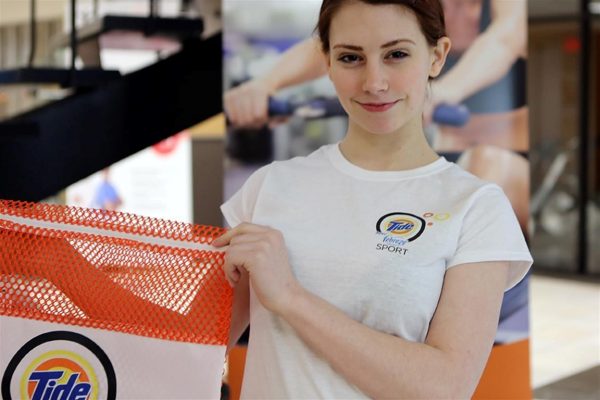 2013 Tide Test with Zoom Media
Tigris teamed up with the biggest ad agency in the business to plan and execute a unique experiential activation to promote the new detergent, Tide Sport + Febreze. Our Tigris "Tide" brand ambassadors were stationed at 24 gyms in Montreal, Toronto & Vancouver Jan. 28 & 30 to collect gym members laundry.
We actually did their laundry Feb. 2-3 and returned the items in Tide-branded laundry bags, along with a free bottle of detergent, on Feb. 4. In addition to staffing brand ambassadors, Tigris also coordinated the laundromats and uniforms for the program. In total over 800 people participated in the program!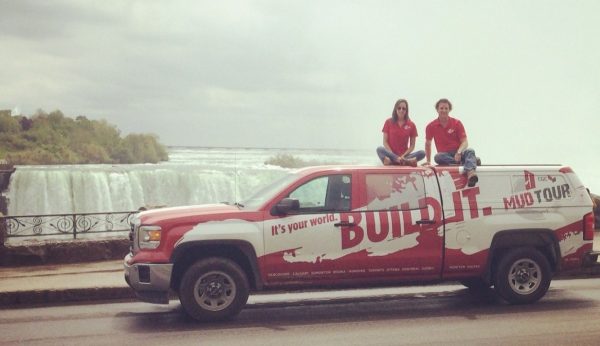 2014 CGC Mud Tour
Tigris' energetic events staff worked tirelessly for CGC's national promo tour, appropriately called#MudTour2014! Our brand ambassadors literally made their way, coast to coast, across Canada from May 5 through to Sept. 1.
Our events staff in Western Canada travelled from Victoria through to Winnipeg, our Central gal roamed Ontario and our Eastern events staff spanned Kingston to St. John's Newfoundland. While on tour, the events staff drove branded trucks and partnered up with local sales reps to network at construction sites, gathering important data on CGC products and handing out swag. To read up more on this rugged mud tour, click here.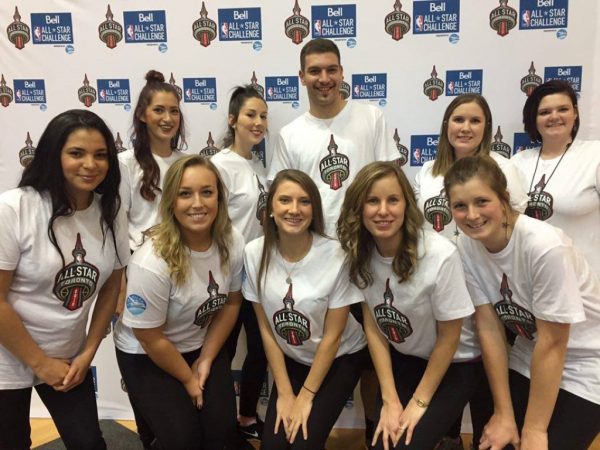 2015 NBA All-Star Tour with FILO Productions
Our Canadian Experiential Marketing Agency has had the opportunity to work with lots of companies from the States over the past few years and this event was no exception. Tigris teamed up with FILO Productions to provide teams of athletic brand ambassadors for community-based initiatives in St. John's, Newfoundland, Fredericton, New Brunswick, and Regina, Saskatchewan. For each event, Tigris supplied over 15 athletic brand ambassadors per city who were skilled in basketball and had experience working with children. The tour continued into 2017 with Charlottetown, Prince Edward Island and Windsor, Ontario.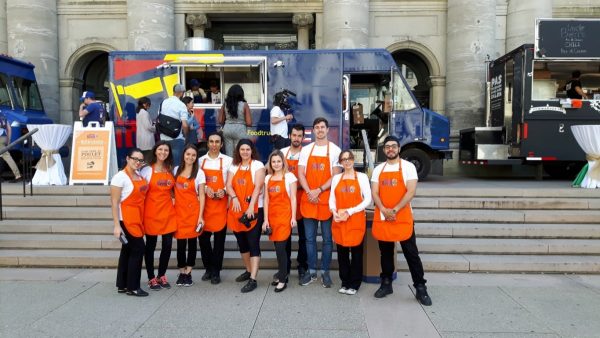 2016 Uncle Ben's Roaming Hunger
What better way to celebrate a new, delicious product than with a Food Truck Challenge? That's why Uncle Ben's decided to execute a Rice and Grains Food Truck Challenge in 3 major markets across Canada; to showcase the convenient, versatile and delicious new dish amongst these large communities. The event was executed in Montreal, Vancouver and Toronto with the help of our dynamic Tigris brand ambassadors.
The purpose of the promotion was to promote Uncle Ben's new product: Rice and Grains. Three local food trucks from each city competed to see who could create the most delicious recipe using the new product, which contains wholegrain brown rice and quinoa. Tigris assisted Roaming Hunger and FleishmanHillard for the planning and execution of these events.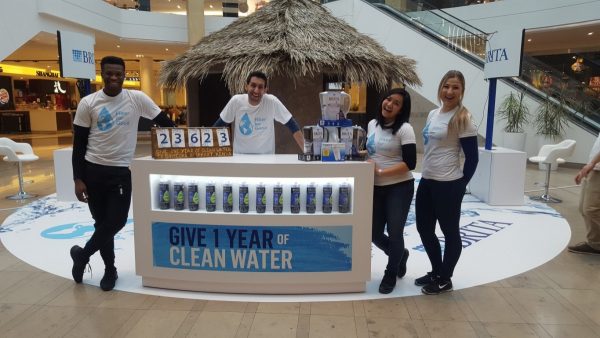 2017 Brita & ME to We with 6 Degrees
Although we are only 3 months into 2017, this Brita activation is one we hold close to our hearts. Brita is executing a national program where each specially-marked Brita product will directly contribute 1 year of clean water to someone in Kenya. At Square One Centre Court, shoppers are invited to discover the Virtual Reality Activation we are hosting for 6 Degrees March 20th – April 9th. You'll be taken on a journey with 13-year-old Beatrice on what life is like in Irkaat, Kenya before and after your Brita purchases!
A Very Thankful Canadian Experiential Marketing Agency
From creating, planning and staffing events that build our clients brands and businesses to giving talent on our roster fun, flexible, great paying part-time opportunities – we truly love what we do. Thank you to our clients for giving us the opportunity to collaborate on ideas and bring their brands to life with our dynamic events team. Cheers!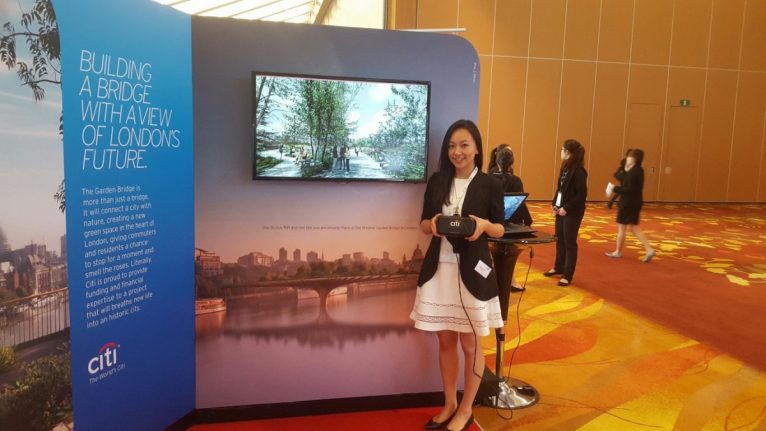 Amy has worked for Tigris part-time since 2011 but recently joined our head office as an account coordinator in 2015. She was promoted to management in summer 2016. Her primary accounts include the Grace Kennedy Foods, Toronto Star and 6 Degrees. Learn more about Amy, our Staffing Account Manager, and you'll discover why we adore this adventure junkie!
How did your journey with Tigris begin?
I honestly had no idea that this industry even existed until one of my girl friends recommended me to apply when I was looking for a part time job! The year was 2011 and it was the beginning of my journey with Tigris.
I still remember one of the first events I worked – conducting the Metrolinx surveys for Hotspex at the YYZ, asking if people thought connecting Union and Pearson airport was a good idea. Now, six years later, we have the UP Express!
In the fall of 2012, I went abroad to teach Math and Science and had to say goodbye to Tigris. Once I returned in 2014, Tigris welcomed me with open arms and booked me for a number of events while I hunted for a full-time teaching position. During this time, I fell in love with the events industry and decided that I wanted a career out of it! Low and behold, who decides to post a job opening for an Account Coordinator other than Tigris? I jumped at the opportunity and landed the position in Sept, 2015. I was then promoted to an Account Manager by the summer of 2016.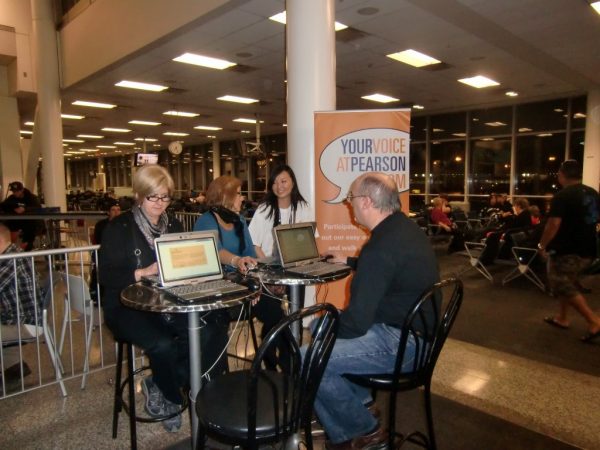 What motivates you to get up and do a great job every day as a Staffing Account Manager?
I'm motivated by the fact that I get to work with the awesome ladies here at Head Office. They're professional, fun, and very hard working. Serena is also a really generous, supportive and laid back boss who embodies excellent leadership skills. She strives to provide everything I need for success, which makes it easy for me to go above and beyond.
I'm also the kind of person who doesn't like to let anyone down, whether it's clients, staff, or my coworkers. If I need to recruit 14 new bilingual staff out in Calgary within two weeks while sourcing uniforms for all staff, Chinese New Year décor for five show homes, and finger foods for 500 guests, then gosh darn I'll do it with bells on!
I actually recently went to Vietnam for vacation as a birthday treat to myself and found myself looking forward to coming back to work. That's when you know you're in the right career, working for the best company.
If you could go one place in the world, where would it be and why?
I can't choose just one; there are so many places I'd like to check out! Since I'm a restless adventure junkie, top on the list are Zhangjiajie (China), Galapagos Islands, New Zealand, Australia, and Norway!
What makes your life rewarding?
Life is what you make of it, and I've learned the importance of creating a work/life balance so I can pursue my hobbies and interests. Working at Tigris allows me to do that. I make a point to travel to new, exotic places at least twice a year. Oh, and eating lots of good food.
Is a Staffing Account Manager what you always wanted to do growing up?
As I've mentioned before, I never knew that this industry even existed until 2011! Before then, I had aspirations of becoming many different things, including a neurosurgeon, a shoe designer, a marine biologist, and a web/mobile developer. However, I learned that I can't handle blood and gore and I can't really draw well. Maybe there's still hope in becoming the latter!
Describe your ideal weekend.
My ideal weekend would involve jetting away to the Blue Lagoons in Iceland for a nice warm dip in the geothermal spa!
If You Could Live In A Book, TV Show Or Movie, What Would It Be?
I'd be in "The New Girl" or "The Mindy Project" as the main character.
What are the three top traits you look for in a best friend?
I would want a friend who's as crazy and adventurous as me and can tell Dad Jokes with a straight face.
Dead or Alive, who would you have dinner with and what would you order?
I would love to have dinner with Kim Jung Un and just find out what his deal is. But, I would probably bring my own food.
Tigris works with many young professionals. Do you have any advice for the staff you work with?
I never had the opportunity to work in promotional events when I was in university so I say take advantage of it! You get to meet so many interesting people, which is perfect for networking. You can also learn a lot about yourself through working with different individuals – what you're capable of, what your pet peeves are, how to deal with conflicts, etc. Most importantly, since you're working behind the scenes for many businesses and brands, you can gain insight into the kind of career you want. Therefore, don't just work at events to make money. Keep your eyes peeled for those rare prospects that may launch you to success!
-Amy Zhou, Staffing Account Manager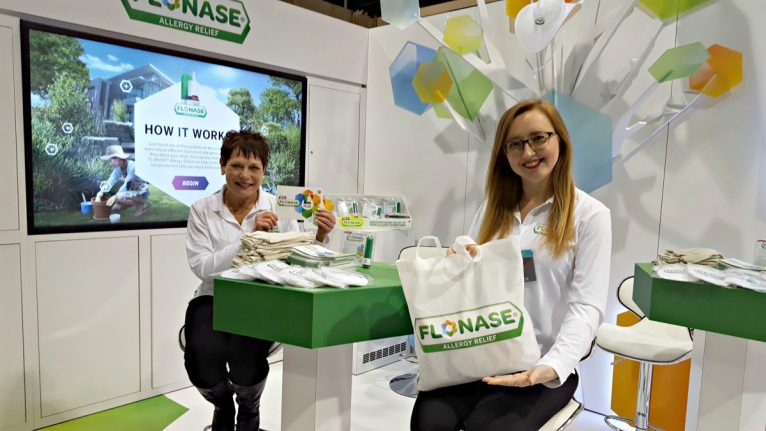 Trade shows are like Halloween. Each booth resembles a house handing out delicious treats to children in the best costumes. Except, in this case, the 'children' are your potential consumers. Just like Halloween, kids ran to the houses with the best candy and decorations. How do you make your booth the best on the block? Better still, how do you create a booth that is so amazing, people are lined up just to get in? We've got 21 trade show booth ideas to help you have your best show yet.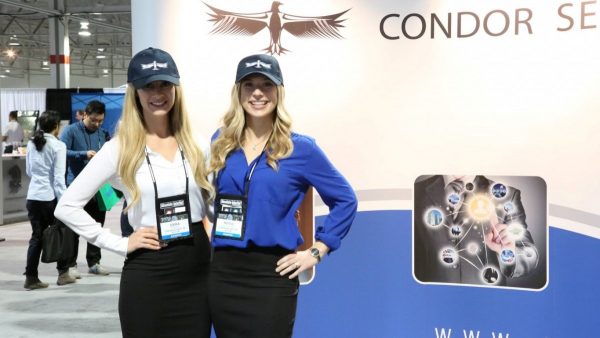 Use branded giveaways
Consumers love free things and they aren't picky either. Whether you're giving away branded pens, phone cleaners or hats, they will take just about anything they can get. Your branded giveaways don't even have to be related to your brand. Of course, if it does, that's even better.
At the ACMO Condo Conference, Condor Security gave away sleek, branded baseball caps. Although the hats are unrelated to security, guests loved them and came to the booth just to grab one. What could be better than an entire trade show walking around wearing your branding. Talk about great advertising!
If you're on a budget, you may want to come up with a unique way to distribute giveaways to manage your inventory. A plinko game, prize wheel or other games can slow down how quickly giveaways disappear. Create a fun activity and also segway into conversation with potential customers.
This tactic is extremely successful when we are hosting events for Wonderlist. Just the sound of the prize wheel brings people over! While waiting in line, our dynamic brand ambassadors engage guests to enter Wonderlist. Once they've entered, they can take a spin on the wheel or play Plinko to get a prize. These from hand sanitizer or chapstick to other small, helpful giveaways. On top of that, they have the chance to win AWESOME prizes. At Taste of the Danforth, a free trip to Greece was up for grabs. As you'll read below, at the Auto Show, $50,000 towards a car was awarded to one lucky winner.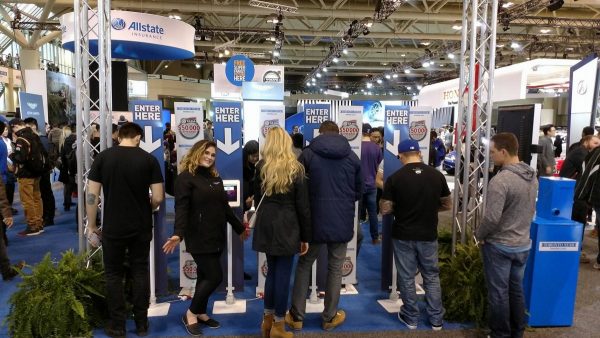 Incorporate a contest
Not everyone has the budget to offer a grand prize of $50,000 towards a new car. Although with a prize like that, it's no wonder people are lining up at the Toronto Star booth, shown above. If you decide to organize a contest, make sure it's easy to participate and the prize is worthwhile. Unsure what to give away? Incorporate your prize into the theme of the trade show. For example, if your company is exhibiting at the Home and Garden Show, you could give guests a chance to win a free garden makeover, gardening gloves or a tool of some kind. By giving away something people will actually use, they will consistently remember your brand over and over again – long after the trade show has come and gone.
Back in 2014, Tigris created an interactive pop-up closet for Express. In addition to trying out the clothing, passersby had the opportunity to enter a text to win contest. Not only did the contest give participants on the spot prizing (e.g. $50 to use in-store), it also enabled the brand to send our weekly offers and discounts to drive traffic to the store. This helped achieve maximum long-term impact outside of the small period of time we were onsite at each location. The Express activation toured locations in Toronto, Southwest Ontario, Ottawa, Vancouver and even Calgary for a year!
Make room for seating space
Trade shows can be long and tiresome (for vendors – as well as guests!). Offer trade show go-ers an inviting place to relax and unwind. Big, comfy chairs and couches are irresistible at a trade show. Once you've got them in your 'arena', use this time to build relationships and pitch your services. Back in 2011, Tigris teamed up with Rogers at the National Home Show. Since the Olympics were in full swing, Rogers designed a ski lodge to create a unique and comfortable space for their customers. What could be more tempting than relaxing by a warm fire after hours of walking around? Creating a relaxing atmosphere is one of our favourite trade show booth ideas.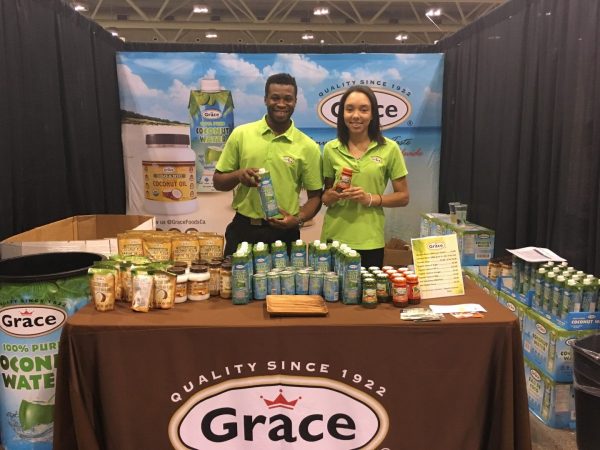 Lots of samples
If you're in the food industry, giving away samples is crucial. It's what most people love most about these types of trade shows. Especially if you have a unique product that's difficult to describe, it's easier to promote your product when people can taste it on the spot. More often than not, consumers go back to their tried and true products. From food and beverage to beauty and health, people are loyal. But give them the chance to try your product out – make them fall in love – land a new customer. We can't speak more highly about the impact of this trade show booth idea.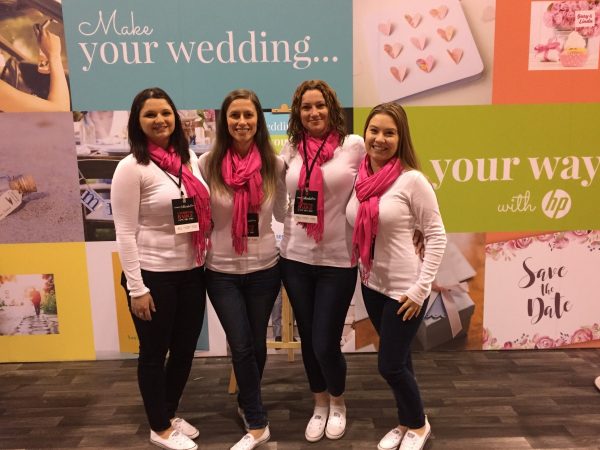 Visual Marketing
Let's jump back to the Halloween analogy. Can you remember which house was your favourite to visit as a child? Maybe it was the house that enclosed their walkway into a haunted path or the house with the smoke machine. Either way, it was the visuals that caught your attention. The same can be done with your trade show booth. When designing visuals, keep the messaging simple and clear, prioritize visuals over text and use your brand colours. Humans are simple – they are attracted to bright and shiny things and people 🙂 The design of your booth should be aligned with your brand image – but keep in mind what is attractive to customers to bring as many of them in as possible.
Quick, informative takeaways
"I'm just on my way to hear the guest speaker". Trade shows can be packed with speakers, lectures and workshops. Attendees only have a limited amount of time to browse the floor. If someone is eager to cut the conversation, hand them one of your company cards, a brochure or a magazine (pending what you have accessible). If you don't have time to get into detail about your products, at least they leave with some information about your company. Who knows – they may send you an e-mail later. Alternately, you can take their business card for a draw – so you can follow up with them later. This may not be ideal for some brands, but for service based businesses, this could be the butter to your bread!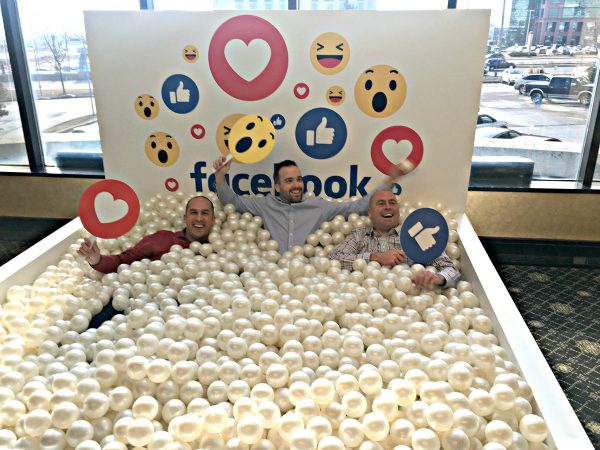 Host a photo booth
Whether you have an instant Polaroid print out or send the photos by e-mail, guests always enjoy taking photos. Use this opportunity to include a branded backdrop, banners, flags, props and/or decor. If you're hosting at a corporate trade show, an effective idea to attract guests is to give them VALUE. Set up a LinkedIn photo shoot so guests can have an updated professional head shot taken for their profile. You'll see a line up all day long – and you'll get their info to send them the photo! For more fun trade shows, like the Gourmet Food & Wine Expo, you could incorporate the same photo booth – but with fun props to dress up. For these photos, you could include your company branding so each photo shared digitally reaches even MORE people. How great is that?
Trade Show Booth Ideas – Be strategic with your layout
Purchasing prime real estate at a trade show can get pricey. Even if you're not front and centre, make sure you consider the layout of your booth. What do people see when they first approach you? How are they entering? From the front or the side? Will they be walking past or through your booth? By considering foot traffic patterns, you'll be able to place the components of your booth strategically. This is especially important if you have a corner booth – or a booth so large people can enter from all sides.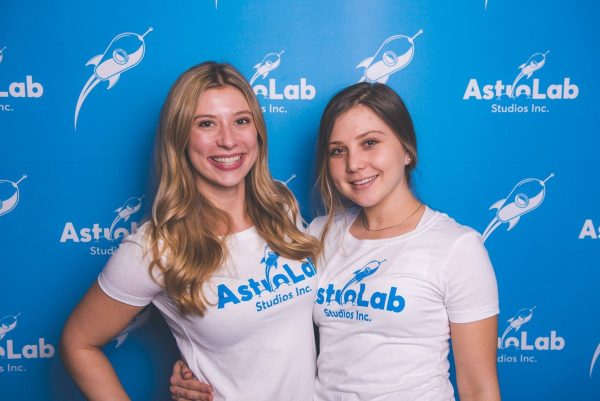 Standout with great uniforms
Whether you prefer branded shirts or business casual, it's easy to stand out with great uniforms. Opt for your brand colours, and ensure the logo is large enough to read from a distance. If you prefer business casual, coordinate with your team beforehand. An example would be for each of the men to wear a black suit with a tie in your brand's colour. The women could wear black dress pants, with your brands colour for the top. As simple as this sounds, a cohesive team appears more professional – even down to the footwear.
Make lead capturing less invasive
Have you noticed most guests walk around with their name tags flipped backwards? That's because they don't want to be harassed while walking the floor. By remaining anonymous, we have no idea if they are a fellow exhibitor or potential client. How do you know if it's worth your time to speak with them? Make capturing leads less invasive by ditching the scanner. Incorporate a contest where guests give their business cards to enter. This way it's not invasive and guests give you their information out of their own free will. Place a bowl at the front of your booth with a clear call to action. You'll notice the bowl full by the end of the day!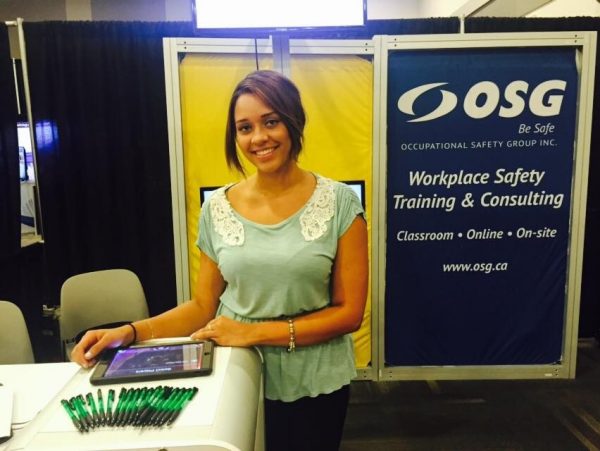 Host a game
Make your booth interactive with a game. Incorporate virtual reality, iPads, touch screens and more. A great example is the Jeopardy-style game Occupational Health and Safety hosts at their booth. Because they focus on training, the Jeopardy game is extremely relevant. The trivia game runs off iPads, and participants are able to pick from 5 categories. There are 3 basic questions in each category, where each participant will have to answer in the form of a question. Total scores are tallied and a grand prize is awarded at the end of the day. This trade show booth idea gets competitive and keeps your booth looking busy!
Have a charging station
What could be worse than seeing your phone dip to just 1 bar of power amidst a busy work day? You'd be surprised how many people don't keep a charger on hand. By having a charging station at your booth, you'll get lots of guests coming over. As a result, they'll be forced to stay awhile as their phone charges. Use this opportunity to engage in meaningful conversations while you've literally got them plugged-in!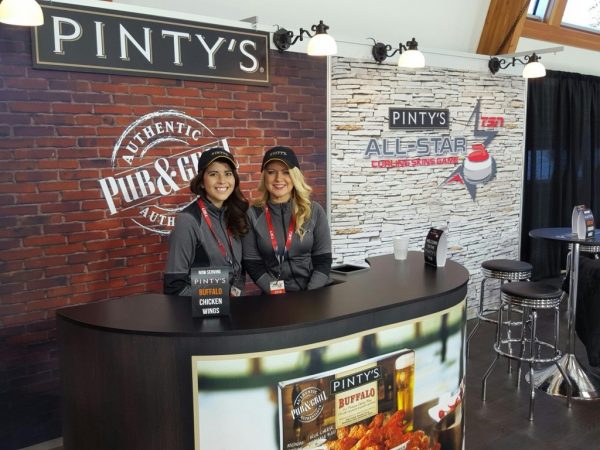 The right amount of staff
An over staffed booth is overwhelming. No one will want to come over and talk if they see 5 people standing at a booth, eager to pounce. It's intimidating and uncomfortable. Whether your booth has temporary trade show staff or simply staff from your head office, take space into consideration. For a 10×10 booth space, you wouldn't want to book more than 2-3 staff. For larger booths, such as 10×20, 4 staff would be sufficient and for 20×20+, 5-6 staff would be optimal. This said, it depends on where you are exhibiting. Different rules apply for vending at outdoor concerts, festivals and special events.
Hydrate guests
I was once at a trade show where almost every guest was holding a fruit-infused reusable water bottle. The whole time I was thinking, where can I get one?! I searched the trade show floor and finally found the booth I was looking for. Unfortunately, when I got there, they were out of stock, and apparently had been for a few hours. The key lesson here is to have a giveaway people want, and they will find you (even when you've run out). More important, make sure you bring enough or come up with a strategic solution to slow down your giveaways (see point above regarding a prize wheel or plinko game). Water is much more efficient than handing out sweets due to the nature of trade shows. They are long and people don't always remember to stay hydrated. You can also get bottles branded if you want to get really fancy!
Play music
Make your booth an environment people want to be in. Bring your own speakers, set up your phone and play some tunes. Your playlist is extremely important. Depending on the trade show, consider your demographic and what they want to hear. Whether it's 90s rock or Taylor Swift, your audience will stop to dance if it's something they like. While trade shows are geared towards creating customer relationships, obtaining leads and improving sales – it doesn't mean they also can't be FUN! Create a memorable experience so the next time your customer hears a song from your playlist, maybe they will think of your brand.
Use Social Media
You don't have to create your own hashtag – each trade show usually has their own. For example, the Calgary Home & Garden shows hashtag is #CHGS17. Look up the hashtag on Twitter and see which influencers are talking about the event and whose attending. Make a connection and invite those talking about the trade show to your booth. Everyone likes a personalized invitation. By including the event hashtag, others searching that hashtag are bound to come across your brand. Creating awareness outside of the trade show floor creates added value that extends beyond the limited reach of those who walk by your booth.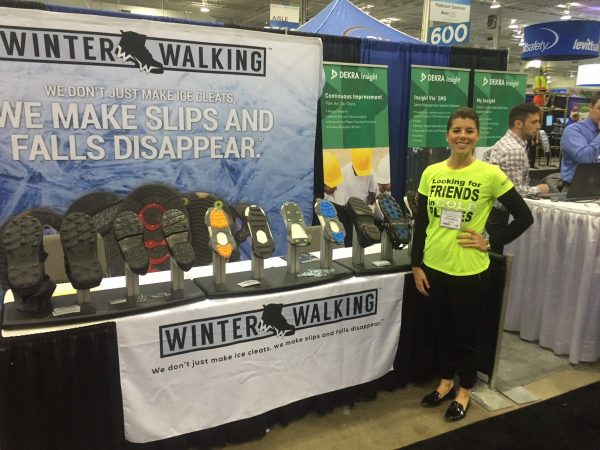 Be Prepared and Practice
How do you break the ice? Regardless of how long you've been working for the company, it's important to practice your opening lines. You may know what you do, but are you good at talking to others about it? Rehearse your opening lines so it seems natural when you're approaching people. Don't rush into a hard sale and let the conversation naturally lead to your services.
Are you using promotional models at your booth? Ensure they know their roles onsite. If you simply want them to engage with guests to start a conversation, it's important they know to pass along serious, potential clients to others within the booth. On the other hand, if you want the staff to become experts on your services, consider a webinar or onsite training prior to the show.
Trade Show Booth Ideas – Have You Hear of Suggestology?
Use the power of asking questions to engage your customers. Get to know them – people naturally love to talk about themselves and knowledge is power. By learning a bit about them, you can better tailor your conversation and suggest products/services suited to their needs. What could be worse than someone promoting something that is of absolutely no relevance to you? This little trick may take an extra couple minutes per interaction but they will be FAR more impactful.
Speaking of questions, make sure you ask open-ended ones. A great example could be asking a customer what flavour they prefer – blueberry or strawberry. What colour car they like – red or green? Ask them something that requires them to give a thoughtful answer vs. a yes or no, that could result in them simply walking away. This is called the "which close" – by giving a customer options, they are more likely to choose something – in the beginning – or at the close. Rather than asking "do you want to buy ………?" – ask them, "do you want to take home the basic package or the enhanced package today?". If they are really uninterested, they will let you know. If they are, this is a subliminal and effective tool to guide them on the path to purchase.
Schedule Live Performances
Make your booth more exciting by scheduling live presentations or inviting a special guest. Promote the performance/person via social media and within the trade show. Try to get it printed in the trade show agenda, or have a speaker announce it during one of the lectures. This gives all guests an incentive to visit your booth. The more awareness, the better.
A great example is Java Brew. At each of their trade shows, a spokesperson for the brand conducts scheduled performances throughout the day. These performances attract crowds of over 20 people per session. The spokesperson explains the business opportunity on a stage, next to their booth, complete with a microphone and slide show. It's extremely engaging and therefore, people were inspired to get more information.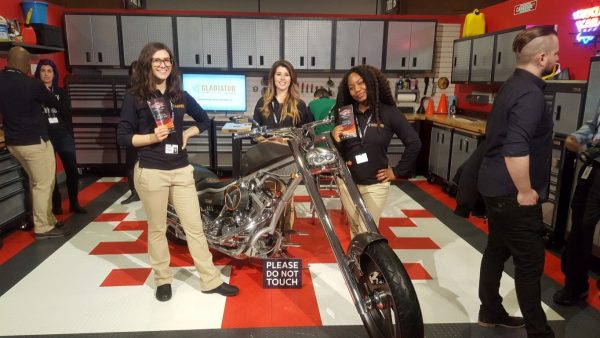 Offer a Special Discount
Can you offer your services and/or products at a special discount? Enlist the 'fear of missing out' into your potential clients and consumers. Offer a special discount, unique to the trade show. This will create an incentive and urgency to buy – whether it's BOGO, or 20% off. These deeply discounted "act now" deals work best when the potential customer is in a unique place for them, a place they are not likely to be in again for a while. That way, if they want this great deal they have to act now.
Have a Sales Goal
A clear, realistic sales goal will motivate your employees and give them purpose. If you give each member of your team a specific sales goal (even better, with a performance incentive), they will work that much harder to push sales. Track your inventory each night and re-group with your team each morning. With a goal in mind, divided per person per day, bigger numbers become more realistic rather than saying, sell as much as possible!
Check in with your team throughout the trade show to assess performance, and reward positive behaviours – thebalance.com
In addition to achieving these goals, setting them in advance will also help you benchmark the inventory you need to bring onsite, how much space is required, how many staff you need and even to calculate your return on investment – so you know if participating at the show will, in fact, be worth it.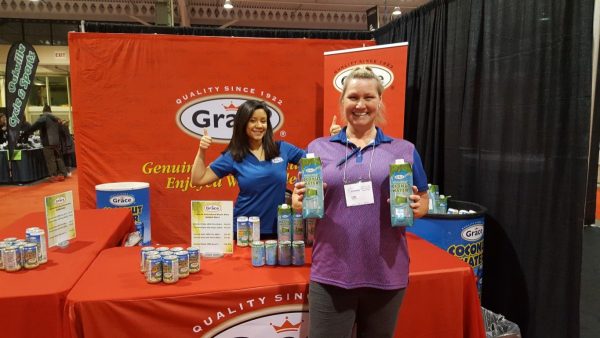 Promote the event like it's your own
Make it known that you are going to attend this trade show. Promote it on your website and social channels. Create a newsletter to send to all of your current and potential contacts. Follow the trade shows social accounts and start engaging. These tactics will gain extra awareness, and people may even think you are sponsoring the event (even if you aren't!).
Did we miss any of your favourite trade show booth ideas? Let us know in the comments section below our favourite trade show techniques. We hope you enjoyed reading our 21 Examples of Effective Trade Show Booth Ideas – and find it helpful the next time YOU need to attend a trade show!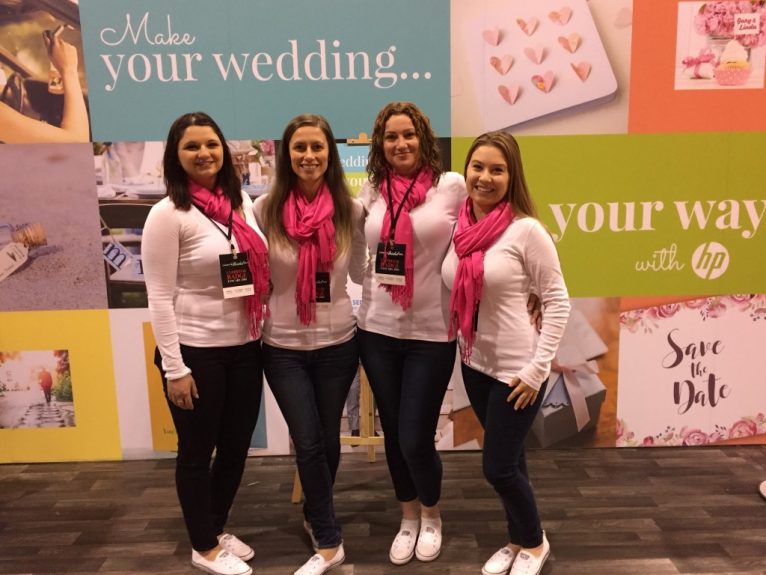 Trellaney has worked as an event manager for Tigris since 2015 and was promoted to a full-time experiential account manager in July 2016. Her experience in this role is a great asset to Tigris as an account manager. She is currently completing her Event and Meeting Management Certification at George Brown. Most recently, she is managing large-scale sampling events across Ontario and British Columbia.
Learn more about Trellaney, our Experiential Account Manager, and you'll discover how it may take a while to figure out what your dream is. But once you do, dropping everything to pursue it is totally worth it.
How did your journey with Tigris begin?
Last year, I was at a job that didn't challenge or motivate me. I was stuck! I knew I needed a change. I needed to find somewhere that encouraged a team environment and a career that I was passionate about, but didn't know how or where to start. Then a friend told me about a website focused on networking and I decide to take a chance. One thing led to another and I ended up meeting Serena at a local coffee shop. I knew after that meeting, I needed to take a chance on myself. So, I left my corporate job, which led to an opportunity to be an Event Manager for the Canadian Tire Dealer Convention. The rest is history!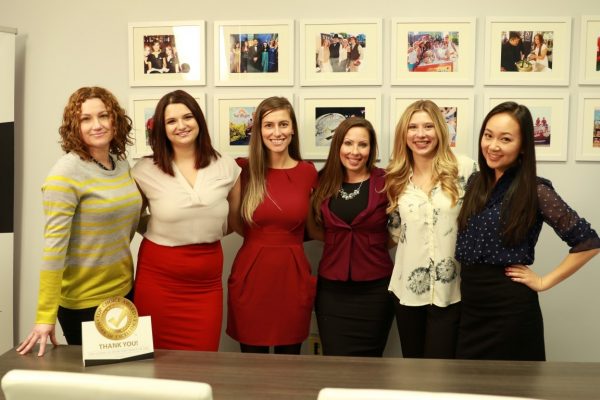 What motivates you to get up and do a great job every day?
Doing what I love with an awesome team! Before I would wake up each day and dread going into work and when I did, I would watch the hours go by very slowly. Now, I go into work and time goes by WAY too fast. Today I work with an amazing team of women, who encourage and motivate each other. Now I am in a career I love with people I admire.
If you could go one place in the world, where would it be and why?
This is a tough question, as my list of places I want to go is forever growing. However, I would have to say India and Sir Lanka! Eventually, I will be able to visit these amazing places.
What makes your life rewarding?
Working at Tigris has allowed me to create a work/life balance, where I have the opportunity to explore my interests. Filling my life with amazing friends, family and the opportunity to travel to mysterious locations makes my life rewarding.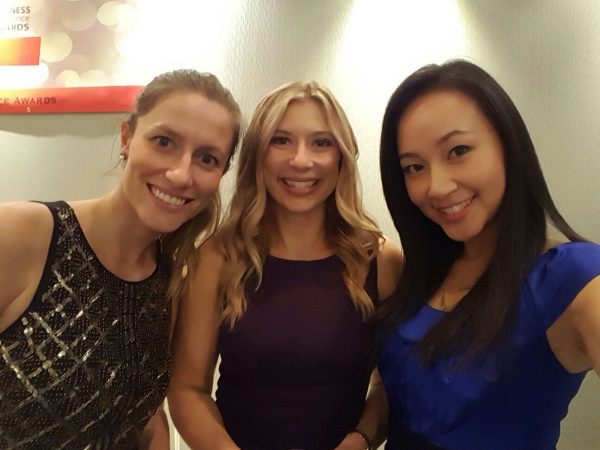 Is an Experiential Account Manager what you always wanted to do growing up?
No, it's not! Growing up I thought there were only ballerinas', doctors, and lawyers. Therefore I wanted to be a ballerina, who was a lawyer and doctor on weekends. I had no idea a position as an Experiential Account Manager even existed!
It wasn't until I interned for Fashion Week of Canada, where I started to have an interest for events and understand that there were a lot of different, unique careers out there such as this one.
Describe your ideal weekend.
A quick getaway to Paris, France. During the day, I would be stuffing my face with croissants and macaroons, while popping in and out of museums and shops. At night drinking wine under the Eiffel Tower.
If you could live in a book, TV show or movie, what would it be?
Gossip Girl – strictly for the fashion, not the drama.
What are the three top traits you look for in a best friend?
Loyalty, trustworthy and a sense of humour! I'm really lucky that all my friends have these.
Dead or Alive, who would you have dinner with and what would you order?
My grandmother. I'd love the opportunity to tell her all the amazing things happening in my life and my family's. We'd have dinner in Argentina. We'd jet set to Argentina for dinner at La Cabrera then take in a tango show!
Tigris works with many young professionals. Do you have any advice for the staff you work with?
Don't be scared to take a chance on yourself!
–Trellaney Opara, Experiential Event Manager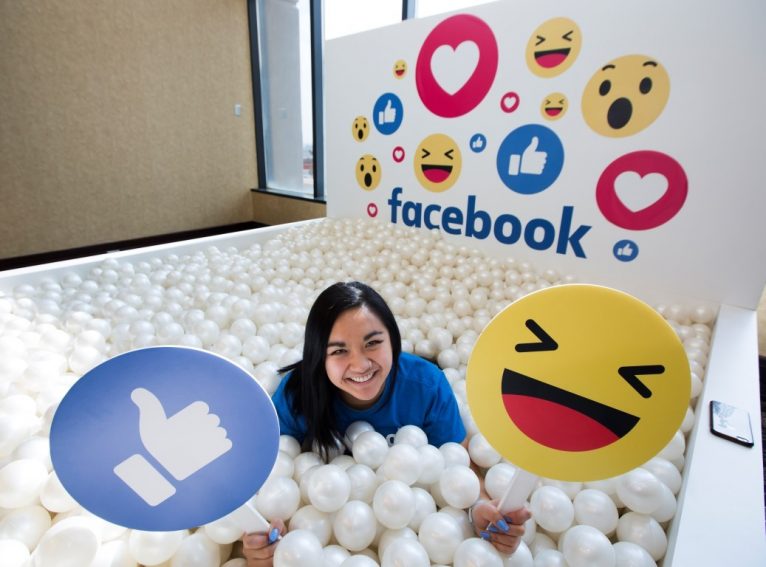 Companies that take care of their talent are the best to work for, wouldn't you agree? We want our team to consider us the best event staffing agency Toronto. We're doing our best to make our brand ambassadors happy.
Because our team of events staff are independent contractors, they are booked on an event to event basis. Although we can not offer traditional benefits, Tigris offers many opportunities for our team to grow financially and intellectually. We encourage our staff to bring in business for Tigris through their own efforts. Doing so will bring them a commission worth 10% of the profit. This is on top of the hourly rate they receive working our events. The highest commission paid to date was $3,000!
Intellectually, we offer our team the opportunity to grow within the company by working as a Team Lead or Event Manager. In addition, specific members film a Facebook Live Video showcasing their role at each event. This allows staff to contribute to our social media channels. On Facebook alone, we are nearing 50,000 followers!
We believe we offer our team unique opportunities, but it's always better to hear it first-hand. Our Toronto roster shares some of their most memorable experiences with #TeamTigris.
Tigris Testimonials: Memorable Experiences with the Best Event Staffing Agency Toronto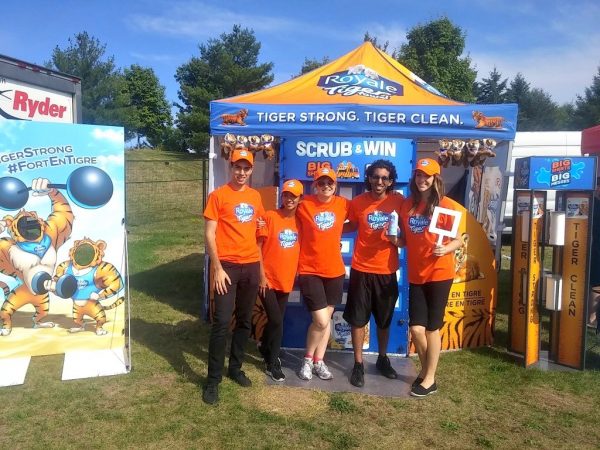 …The best part about working with Tigris are the great relationships you build, with not only your team but the customers as well. I absolutely love meeting new people and making someone's day! Whether it be giving out free samples or just informing people about great events and initiatives, the take back is so rewarding. My favourite Tigris experience was probably when I worked with Tiger Towel at Woodbine Park. The great team I worked with made the day fun, entertaining and eventful. We all had each other's backs and were quick to help out where needed. Working with the public was amazing as well. They were so excited to play the game and try to win the tiger stuffed animal. I truly look forward to many more events like this in the future. – Stephanie C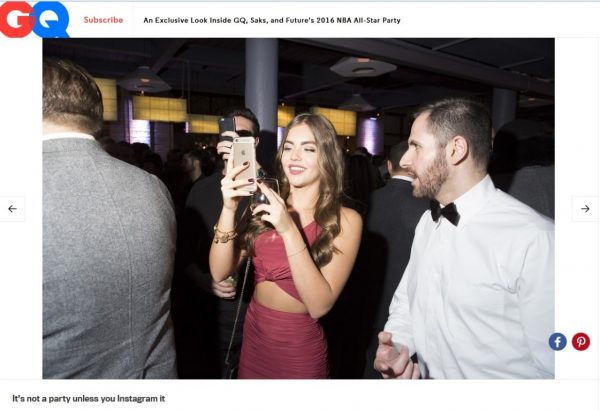 My favourite Tigris event so far has been the GQ NBA party, working for a very popular fashion magazine during the NBA All-Star Tour. This was truly an experience of a life time especially after seeing my photo published on the GQ Blog (as seen above) – Fady Z
Positive Experiences with Tigris' Promotional Models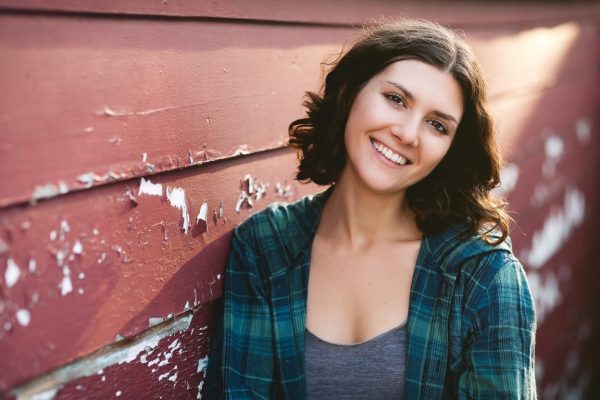 Working with Tigris has been amazing! They have always been so inclusive. I feel like they genuinely care about my well-being when I work with them. I met one of my closest friends working with Tigris at the Auto Show last year, and I also scored the best pair of black leggings I own. A win-win situation, very common when I'm with Tigris! I even scored a two month full-time work opportunity with them this past fall. I learned so much! – Alyssa O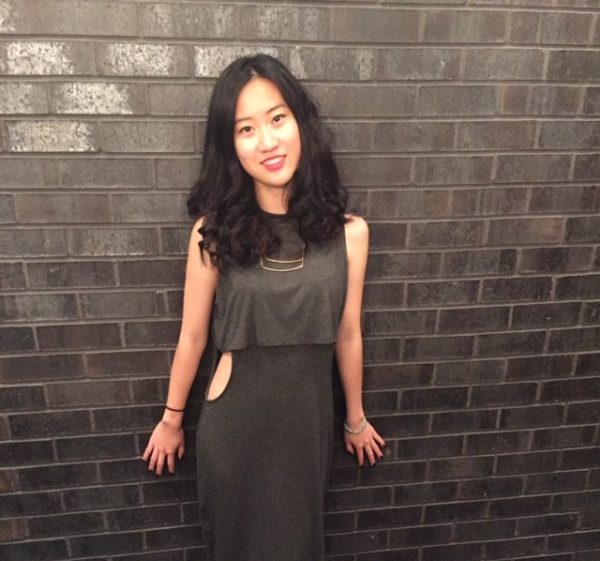 I would have to say my favourite Tigris experience was the Tigris group interview. This was the first time I got to meet the Tigris team in person and it was such a positive experience, I still remember being asked what the name of my autobiography would be and having a great laugh about it afterwards! I knew that I wanted to work with Tigris when I saw how dedicated the team was and how passionate they were about what they did! – Angela Z
Team Up With Tigris Events, Best Event Staffing Agency Toronto
If these testimonials got you excited to join the team, apply today! We are consistently recruiting nationwide across Canada. To apply, send 2-3 recent photos and your resume to recruiting@tigriseventsinc.com. If you're interested hiring Tigris brand ambassadors or promotional models for your next event, contact us today for a free quote.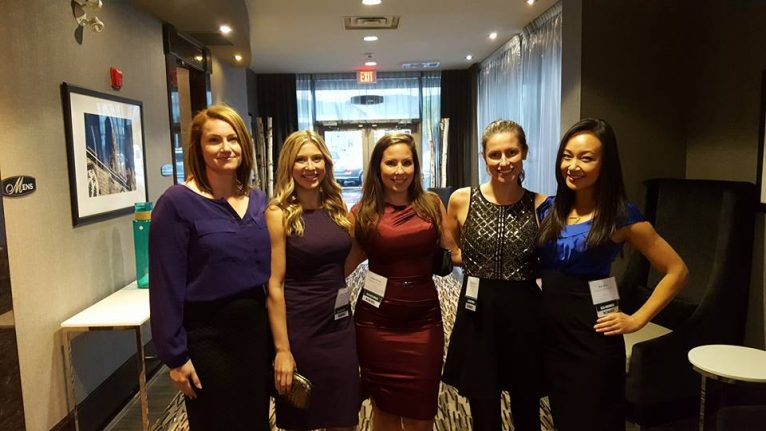 What's something we love about Tigris? The inspiring, passionate female President and CEO, Serena Holmes. Serena has been with Tigris for 12+ years & brings 16 years combined industry experience. Her core expertise ranges from management & staffing, event planning, to experiential & logistics. Serena is involved in project management for the company's biggest clients along with driving company marketing and sales.
Learn more about Serena and you'll quickly realize why we admire and respect everything this amazing woman stands for!
Interview with Serena Holmes, Female President and CEO of Tigris Events
How did your journey as the female President and CEO of Tigris begin?
I knew the original female president and CEO Tigris when she was still working with another company, although I never really dealt with her outside of my initial interview in 2002. In April of 2004, I got a call from her asking if I'd be interested in working with her at Tigris and another company she had started. At that time, I had just graduated from university and needed the money so I got started right away. Within a few months, she offered me management and by April of 2005, partnership. At first, I was hesitant, as I was pursuing journalism but took the chance. The founder left the company in 2008 which led to a buy out spanning 2 years. Here I am, 13 years later!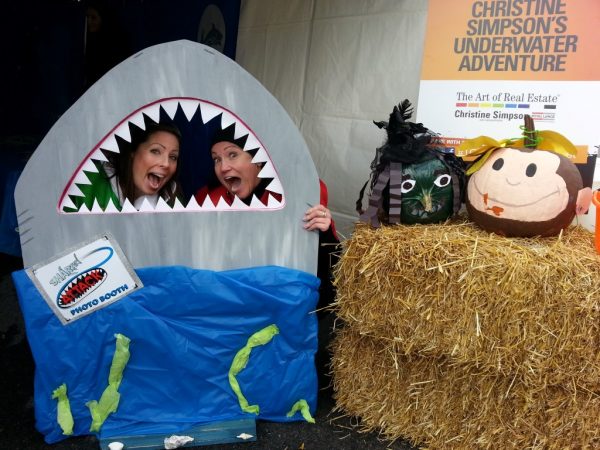 What motivates you to get up and do a great job every day?
Many already know that I love the opportunity to help others. Getting involved in events really changed my life. It helped me come out of my shell and really develop as a young adult. I believe we are able to offer young adults the same experiences and also, ensure they are well taken care of. In addition, it's exciting to work with such a wide range of brands and help them achieve their goals. The relationships we have built with our clients have spanned a decade in some cases. Nothing could be a better testament to the quality of work we do.
If you could go one place in the world, where would it be and why?
Thankfully, I've been lucky to be able to travel in the past few years and have gone to some of the places I'd love to go. This said, I'd love to go to Borneo, Indonesia and see the Leuser eco-system. It's the only place in the world where the orangutan, Sumatran elephant, rhinos and tigers still exist. Sadly, it's being decimated for palm oil plantations and may not be here in 5-10 years.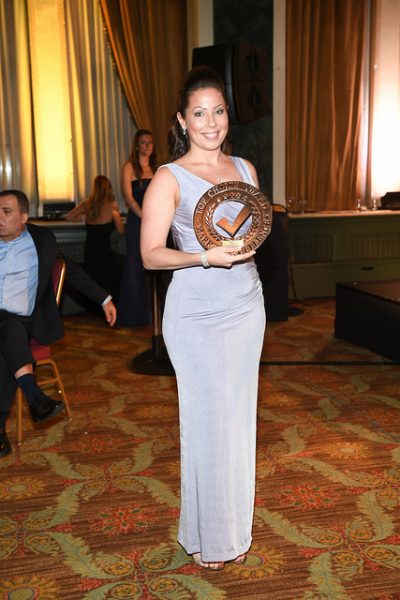 What makes your life rewarding?
The opportunity to help others has always been important to me. Tigris provides work opportunities to thousands of young adults across the country. I find that incredibly rewarding especially considering how hard it is to get ahead these days.
Is what you're doing now what you always wanted to do growing up?
No, it's not! It was in university that I discovered what promotions were. I loved investigative journalism and documentary making the most but it was a very difficult industry to get started in. You really had to consider moving to a small town and working your way back over the span of 10 years. Tigris literally landed in my lap right out of school and it was an opportunity I couldn't pass up so I changed my course.
Describe your ideal weekend.
Our weeks are generally very busy so the weekend is a great time to recharge. A perfect weekend is typically a low-key one, at the cottage with my husband and my fur babies.
If You Could Live In A Book, TV Show Or Movie, What Would It Be?
Jurassic Park would be cool. I'd love to have seen dinosaurs (from a safe distance of course!).
What are the three top traits you look for in a best friend?
Honesty, loyalty and a sense of humour.
Dead or Alive, who would you have dinner with and what would you order?
Dead or alive, I would love to have dinner with Jane Goodall or Dian Fossey. They have done incredible work with primates and conservation over the years. I could see us ordering a mushroom risotto and arugula salad.
Tigris works with many young professionals. Do you have any advice for the staff you work with?
90% of success is showing up, 95% is showing up on time and 100% is showing up with energy. You are your own personal brand.
While there may be some situations when you don't want to go to work, if you've made a commitment, you should stick to it. You're really only as good as your word – and truly, what goes around comes around. I think you really get out of life, what you put into it. If you stick to your word, are proactive and go above and beyond for others – you'll reap the rewards.
I didn't get where I am today but ignoring emails outside of work hours or telling a client I can't help them because I'm off the clock in 5 minutes. In fact, many of the clients we have value us for being available to them, communicating quickly and helping them when other company's have or will not.
A mentor once told me, you can have anything you want in life if you can help enough other people get what they want. I don't think this could be any more true.
-Serena Holmes, female President and CEO of Tigris Events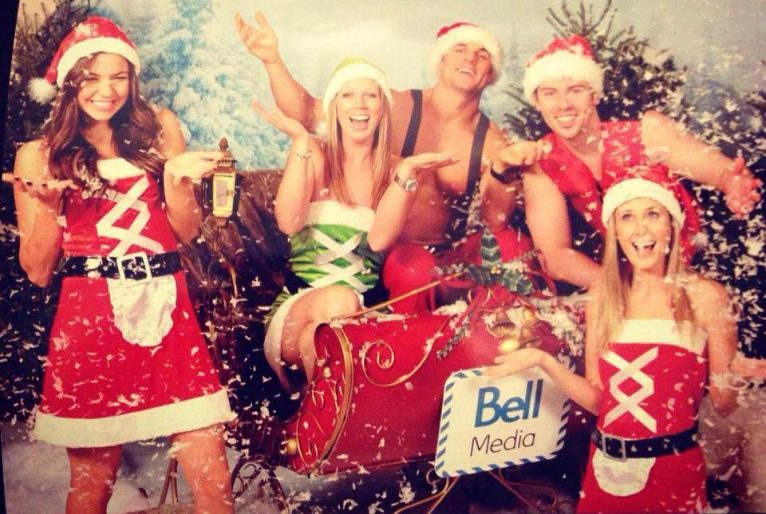 As you already know, we truly appreciate all of the brand ambassadors that form Team Tigris. This year, we have grown to over 2,000 brand ambassadors across Canada! Pretty crazy, isn't it? Last week, we revealed the Top Team Members of 2016 for their special efforts this year. Now, it's time to celebrate with the whole team at our team holiday parties!
Wouldn't it be amazing to have all of our talented brand ambassadors together in one room? We thought so too! Our head office plans the talent appreciation parties exclusively for Tigris brand ambassadors to celebrate alongside their teammates. Throughout the year, our events range from 1-35+ staff per day. While some of our brand ambassadors have met each other, most have only met a handful. In some cases, certain brand ambassadors have only worked independently! Because of this, it's important that our team is able to come together to finally meet each other. As you know, most brand ambassadors are loud, outgoing people. It's going to be quite a party!
Are You Going To One Of The Tigris Team Holiday Parties?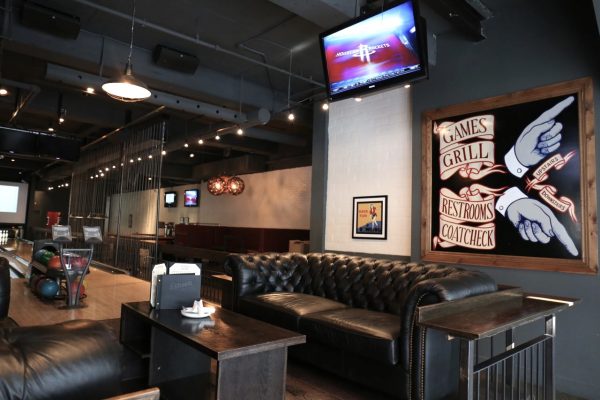 Because Toronto is our largest roster (over 500+ staff!) Tigris will be at The Ballroom on Sunday, January 8th from 5PM-9PM.  This event is created exclusively for our award winning GTA team.
You'll find us in the Turkey Room, which includes a full-service bar, 2 private bowling lanes, and 2 pool tables. Each guest receives 2 drink tickets, appetizers, and full use of the facility. In addition, each guest will be entered into a raffle for great prizes distributed throughout the night! As a result, you'll leave feeling full, happy and (hopefully) a winner.
Don't miss out on this great opportunity to get to know our account managers and fellow events staff.
Tickets can be purchased HERE. Because there are limited quantity of tickets available, don't wait!
Please RSVP NO LATER than Fri., Dec. 30 @ 12pm.
Want to bring a plus one? Pending final numbers, guests may be welcome at the same ticket price ($15). If you'd like to bring a guest, please email Joanna at jolaru@tigriseventsinc.com and we will confirm if they can attend app. 1-2 weeks in advance.
Free Team Holiday Parties in Vancouver, Calgary, and Montreal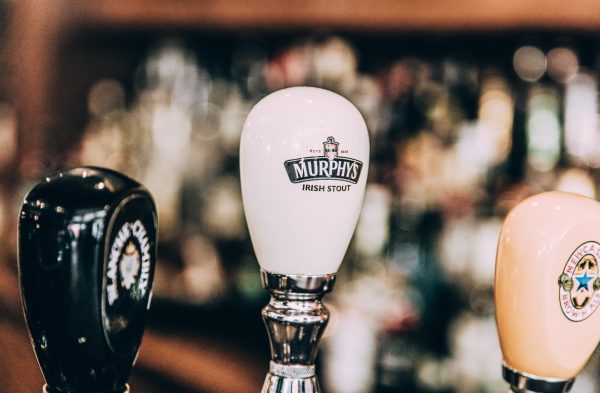 Typically, we only host team holiday parties for our Toronto roster. This is because Toronto is our largest team in Canada. However, this year, we have grown exponentially across Canada. Our rosters in Vancouver, Calgary and Montreal have been given more opportunities to work for great clients at amazing events. As a special thank you, we are hosting free events on January 8th in each market. Seems like it's time for the whole team to celebrate!
Vancouver, Ontario | Doolin's Irish Pub Sunday, 8 January 2017 from 5:00 PM to 8:00 PM (PST)
Montreal, Quebec | Pub Bishop & Bagg Sunday, 8 January 2017 from 5:00 PM to 8:00 PM (EST)
Calgary, Alberta| Hose and Hound Sunday, 8 January 2017 from 5:00 PM to 8:00 PM (MST)
Guests will receive 2 drinks, appetizers, and the opportunity to participate in a raffle for great prizes. Be sure to check your e-mails for an invite and RSVP by Mon., Jan 2 @12pm. Want to bring a plus one? Pending final numbers, guests may welcome. If you'd like to bring a guest, please email Joanna at jolaru@tigriseventsinc.com and we will confirm if they can attend app. 1-2 weeks in advance.
Join The Tigris Team In 2017
Did you know Tigris had over 1,000 activations this year? How cool is that? Our dynamic events staff had the opportunity to represent some of the best brands in the country from coast to coast. Needless to say, we are thrilled about what 2017 has in store for our team.
If you're interested in joining the team, please send 2-3 photos in addition to your resume to recruiting@tigriseventsinc.com. If eligible, one of our recruiters will be in contact to schedule an interview.