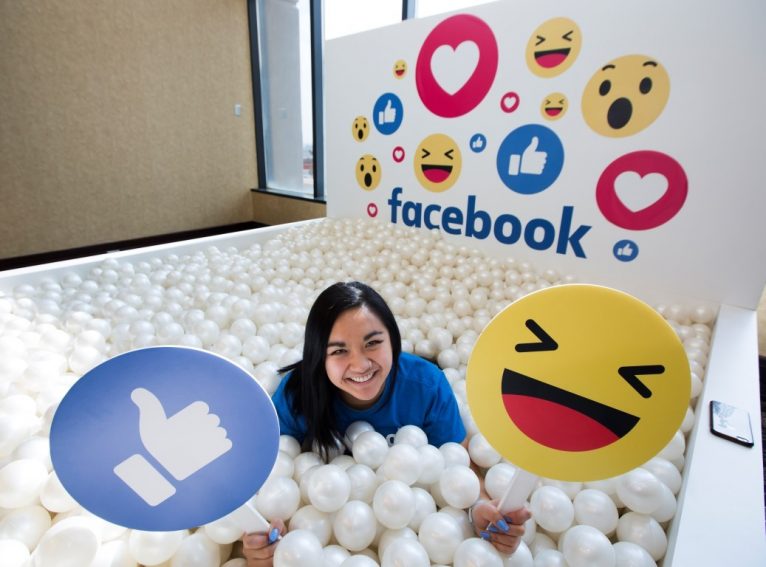 Companies that take care of their talent are the best to work for, wouldn't you agree? We want our team to consider us the best event staffing agency Toronto. We're doing our best to make our brand ambassadors happy.
Because our team of events staff are independent contractors, they are booked on an event to event basis. Although we can not offer traditional benefits, Tigris offers many opportunities for our team to grow financially and intellectually. We encourage our staff to bring in business for Tigris through their own efforts. Doing so will bring them a commission worth 10% of the profit. This is on top of the hourly rate they receive working our events. The highest commission paid to date was $3,000!
Intellectually, we offer our team the opportunity to grow within the company by working as a Team Lead or Event Manager. In addition, specific members film a Facebook Live Video showcasing their role at each event. This allows staff to contribute to our social media channels. On Facebook alone, we are nearing 50,000 followers!
We believe we offer our team unique opportunities, but it's always better to hear it first-hand. Our Toronto roster shares some of their most memorable experiences with #TeamTigris.
Tigris Testimonials: Memorable Experiences with the Best Event Staffing Agency Toronto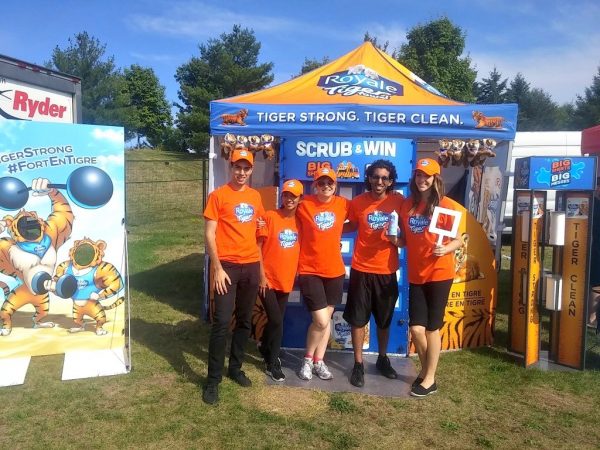 …The best part about working with Tigris are the great relationships you build, with not only your team but the customers as well. I absolutely love meeting new people and making someone's day! Whether it be giving out free samples or just informing people about great events and initiatives, the take back is so rewarding. My favourite Tigris experience was probably when I worked with Tiger Towel at Woodbine Park. The great team I worked with made the day fun, entertaining and eventful. We all had each other's backs and were quick to help out where needed. Working with the public was amazing as well. They were so excited to play the game and try to win the tiger stuffed animal. I truly look forward to many more events like this in the future. – Stephanie C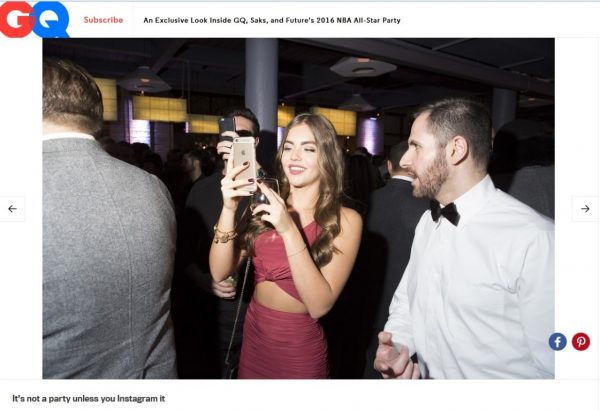 My favourite Tigris event so far has been the GQ NBA party, working for a very popular fashion magazine during the NBA All-Star Tour. This was truly an experience of a life time especially after seeing my photo published on the GQ Blog (as seen above) – Fady Z
Positive Experiences with Tigris' Promotional Models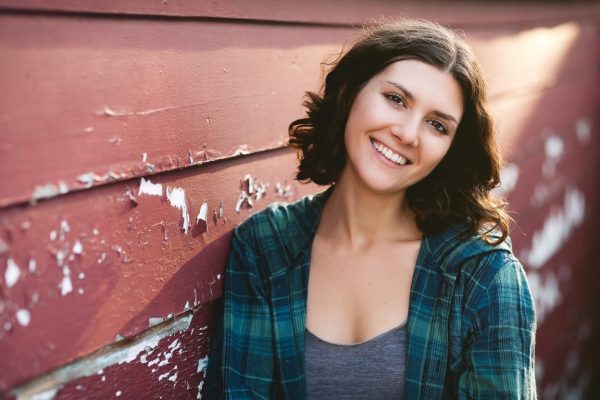 Working with Tigris has been amazing! They have always been so inclusive. I feel like they genuinely care about my well-being when I work with them. I met one of my closest friends working with Tigris at the Auto Show last year, and I also scored the best pair of black leggings I own. A win-win situation, very common when I'm with Tigris! I even scored a two month full-time work opportunity with them this past fall. I learned so much! – Alyssa O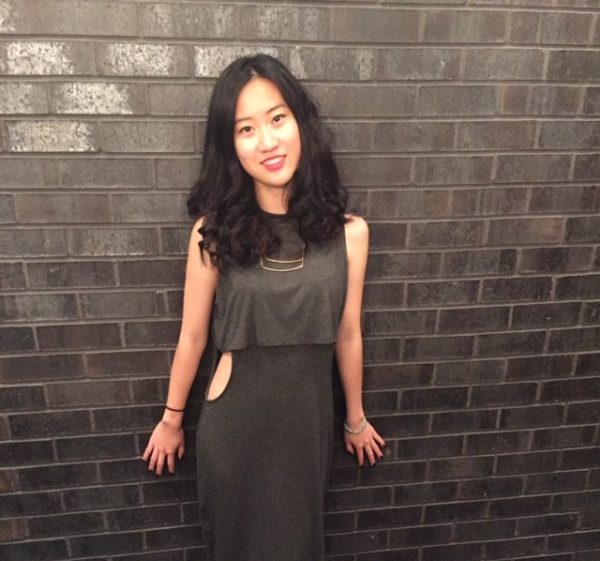 I would have to say my favourite Tigris experience was the Tigris group interview. This was the first time I got to meet the Tigris team in person and it was such a positive experience, I still remember being asked what the name of my autobiography would be and having a great laugh about it afterwards! I knew that I wanted to work with Tigris when I saw how dedicated the team was and how passionate they were about what they did! – Angela Z
Team Up With Tigris Events, Best Event Staffing Agency Toronto
If these testimonials got you excited to join the team, apply today! We are consistently recruiting nationwide across Canada. To apply, send 2-3 recent photos and your resume to recruiting@tigriseventsinc.com. If you're interested hiring Tigris brand ambassadors or promotional models for your next event, contact us today for a free quote.

How do you go about celebrating your best year yet? Throw nationwide holiday staff parties of course! Tigris events staff could be found working more than 32,000 hours on 4,500 shifts and 1,200+ activations in 2016. That's a 30% increase over our 2015 events. Needless to say, we have lots to be thankful for and want to show gratitude with the hard-working members of our team.
We've been working with and getting to know some amazing staff across the country. What better way to ring in the New Year and celebrate our successes than with holiday staff parties in not only 1 but 4 of our major markets?  This past Sunday, Tigris held its 13th Annual Holiday Staff Party in Toronto as well as our 1st Holiday Staff Parties in Montreal, Calgary, and Vancouver!
Planning for our Holiday Staff Parties
Planning holiday staff parties is not an easy feat, especially when your party is coinciding with so many others over the holiday season. With family gatherings, last minute gift shopping, traveling plans, vacations, and exams, it's hard to get everyone under one roof. Even though we have nearly 600 people on our Toronto roster, past years have proven that only 10-15% of our roster makes it out. That's why this year, we did things a little differently.
The Schedule
In previous years, holiday staff parties have been held in late November or early December. This year, however, we opted to schedule the parties for Sun., Jan. 8. Our team was interested in selecting this date to avoid conflicts with other commitments. Being a Sunday evening, guests can run their errands before the party, but go home early enough to take on the new week!
The Venues
Our Account Coordinator, Joanna, spent lots of time researching tons of cool venues in each of the four cities before deciding on locations (named below) worthy enough for our holiday staff parties. We brainstormed a few places in Toronto, including iDarts, Ripley's Aquarium, and Skyzone.
The Invites
We utilized a variety of methods to round up the guests for our holiday staff parties. EventBrite was a huge help, as our guests could RSVP directly on their website. EventBrite has an instant notification system so we were consistently in the know about who was attending.  In addition, Facebook event invites were created so our staff can see the guest list. We get it, most of us make decisions about whether to attend an event based on who else is going! As the deadline to purchase tickets neared, we also sent out personal reminders via email, text and phone calls. Each city had a sizeable guest list by Jan. 5 and we were pumped!
How were the Holiday Staff Parties?
On the evening of the 8th, Tigris staff filed into pubs and bars in each of the four major cities for their respective holiday staff parties. Our Toronto staff dressed to impress at the trendy Ballroom in the heart of downtown Toronto.
Tigris Head Office Team gave each guest drink tickets for the Turkey Bar as well as a raffle ticket for the prize draw. Delicious food platters were spread throughout the private party room and servers emerged in waves with additional mouthwatering appetizers. The BBQ grilled chicken skewers and mini mac n' cheese were team favourites!
The party came in full swing around 7pm. Serious smack talking could be overheard by the two pool tables, coupled by the thunderous crash of bowling pins in the two private bowling lanes.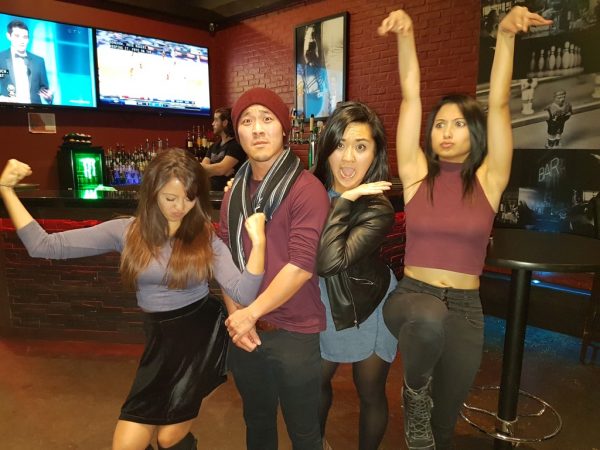 Over in Montreal…
Tigris staff could be found indulging in goodies at the Bishop & Bagg, an authentic British pub in Mile-End. At 7:01pm, our Regional Account Manager & host, Tommy posted a live Facebook video of guests clinking glasses for a toast. This led to a chain of live videos from each party being posted across the country. While we only had a small group of guests attend this party, they were touched that they finally had the opportunity to partake in a holiday celebration with some of their co-workers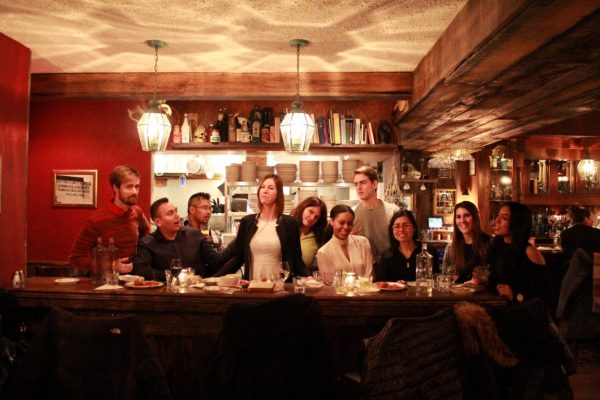 A couple time zones behind in Calgary…
Tigris staff were mixing and mingling at the Hose and the Hound. Our regional account manager for Calgary went live on Facebook interviewing guests about their favourite part about working with Tigris. One events staff, Tara said, "it's the different sorts of events, the level of professionalism, and the follow through with what they [Tigris] say." Rayna said she really enjoyed working the Canada Beef event, which is always well organized and fun.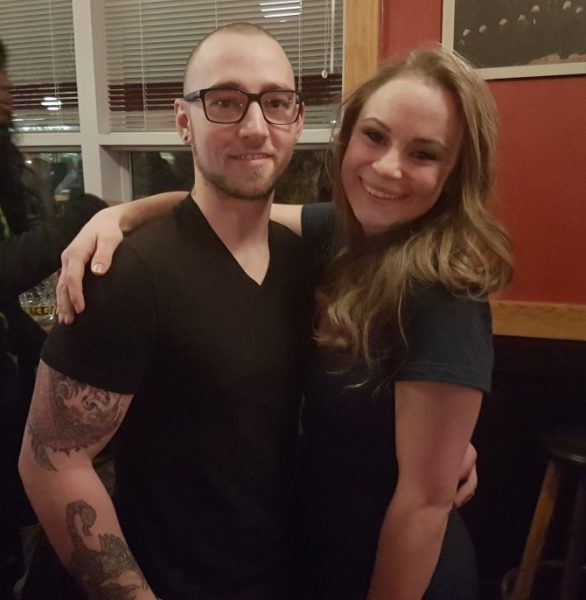 On the West Coast…
Tigris Event Manager, Jaime was busy chatting with Tigris promotional models at Doolins, an Irish Pub. When asked why she loves working with Tigris, Paris exclaimed, "because of the people I get to work with!" Holding up her wine glass, Yvonne said her reason was because of the awesome holiday staff parties that Tigris throws. YAY! We had closer to 30 team members hit up our Vancouver party – the 2nd largest crowd next to Toronto. What a great group!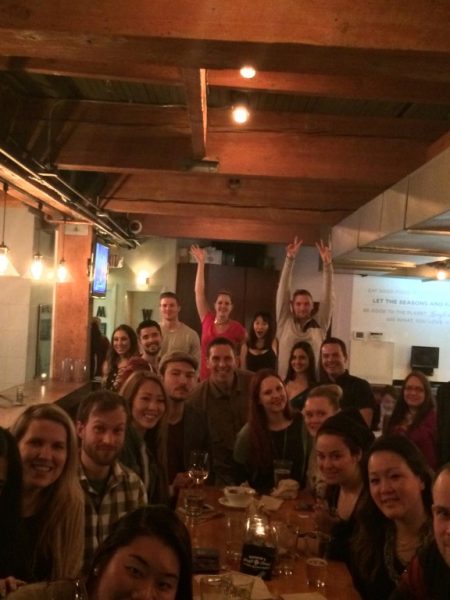 Near the end of the night, we raffle prizes were drawn to further to show our appreciation for staff who made it out to party in the freezing cold. We gave away lots of sweet prizes, including $25-$100 gift cards to The Keg, Sportchek, Cineplex and many other places. Congratulations to all of our team members who took home added bonuses in each of our cities. The parties went off without a hitch and team members had a blast. Our management team had so much fun chatting with old friends and meeting new ones. Even our CEO came into the office on Monday morning with no voice so you know we had a good time! To check out all of the photos from the parties, check out our facebook fan page!
Since the Tigris holiday staff parties this year were so fun, we're thinking of throwing Tigris Summer Staff Parties! What do you think?
I'm already daydreaming about those pink drinks on a patio or a friendly game of volleyball by the beach!
To find out more about what Tigris does when we're not having holiday staff parties, please visit the rest of this website or call us at 416-283-9119. If you're interested in joining the team, please send 2-3 photos in addition to your resume to recruiting@tigriseventsinc.com. If eligible, one of our recruiters will be in contact to schedule an interview.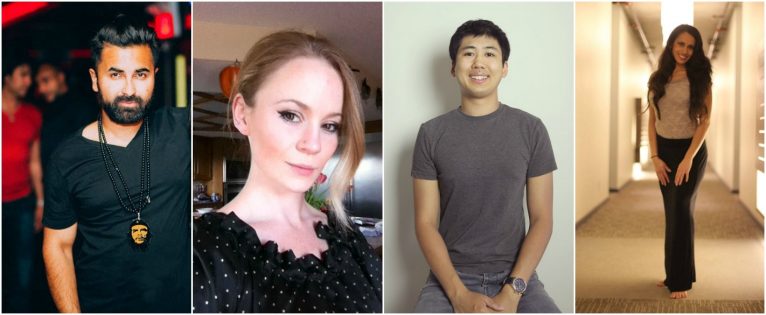 Staff Appreciation Gifts for the Top Tigris Team Members of 2016
At the end of each year, Tigris awards a top team member from each region for their performance onsite and communication leading up to, during and after events. Below are your top 2016 Tigris team members! Our staff appreciation gifts include a certificate for Top Team Member of their region, along with a gift card to use at their favourite restaurant.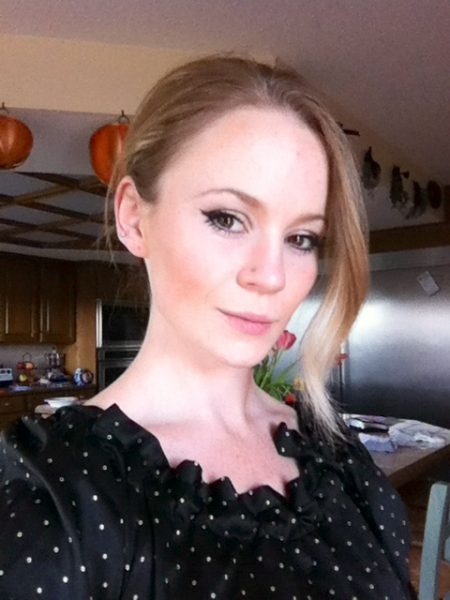 Ashley Martin-Longstaff, Alberta
Congratulations Ashley! Ashley has been on the Tigris Team since 2014 and has proven herself continuously at each promotion. This year, she worked at a variety events including a Calgary Stampede party with Trend Mirco and the Calgary Petapalooza with Petcurean. In addition, Ashley receives great feedback from her teammates, describing her as hard working, friendly and positive.
Ashley received Top Team Member of Alberta for 2016 because we notice and value her commitment to each event. Most of all, she is extremely accessible by e-mail and/or phone and always quick to reply. Her feedback forms are descriptive and informative. After reading her experience, you feel like you were working the event with her!
Thank you, Ashley for your commitment, hard work and positive attitude throughout 2016.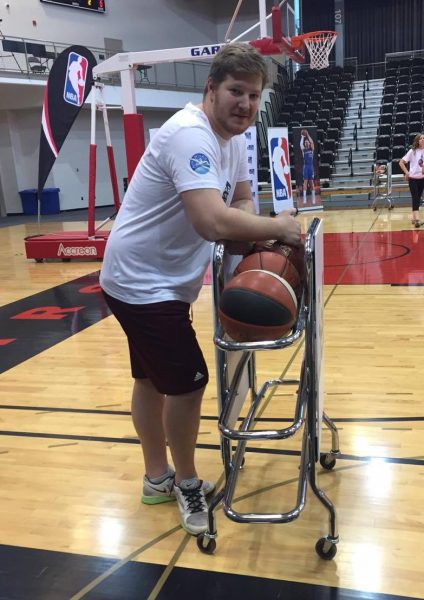 Cody Dixon, Maritimes (Nova Scotia, New Brunswick & Prince Edward Island)
Cody joined the Tigris Team near the end of 2015, specifically for the NBA All-Star Event with FILO Productions in Fredericton, ND. This year, Cody was Team Lead for the NBA All-Star Event in Charlottetown, PEI. He was responsible for working alongside the client and managing a team of 15 brand ambassadors Jan. 7th to 10th.
The team was required to facilitate athletic clinics as part of community-based initiative to promote the NBA All Star Tour in Canada. Cody did an amazing job onsite as Team Lead, and the client loved his enthusiasm.
Thank you, Cody for taking on such an important role and ensuring the event was a success!

Tanya Laporte, Montreal
Tanya joined the Tigris Team in March 2015. Since then, she has represented multiple brands through Tigris including RentMoola, Victoria's Secret and Kijiji. Onsite, she is a bright ray of sunshine that attracts consumers to each promotion.
Additionally, her fellow brand ambassadors find her a pleasure to work with and they have created strong friendships outside of work. We appreciate Tanya for her warm enthusiasm, eagerness and her efforts to go above and beyond at each event.
Thank you, Tanya, for helping Tigris bring brands to life with the power of presence throughout 2016!

Taha Asif, Toronto
Taha has been on the Tigris Team for 3 years now, but it was in 2016 that he was given the opportunity to manage a large scale promotion. What we initially thought was a 3-day event (Rise Real Estate, ICON) turned into a 4-month program!
Taha took the lead as the full-time onsite Event Manager. Each day, he was responsible for managing a team of up to 35 brand ambassadors a day at ICON. His teammates appreciate his role as a leader but also feel comfortable speaking to him as a friend. One of his fellow brand ambassadors said, "Taha has been an excellent manager and has been doing his best throughout this event to make sure everything is going perfectly well at ICON. He always made sure we maintained a level of professionalism, and also made sure that everyone was on the same page to help run things smoother and better. Taha is really respectful and friendly, and I am really glad to have him as my manager."
Thank you, Taha, for taking the lead on a difficult program while making our team feel motivated and respected in 2016!

Justin Cheung, Vancouver
Justin joined the team in August of this year, and has proven himself as a top team member in a short amount of time. This year, Justin has represented top brands with Tigris include Soleterra, Coca Cola and Bacardi.
It was at the Satori Communications Group Inc. in association with Barcardi's Fine Whisky Emporium promotion that Justin truly shone. The BA received excellent praise directly from Bacardi, after seeing him in action. As a result, this speaks volumes to the success of the program and his performance. In addition to excellent onsite performance, Justin sends his Account Managers at Tigris hilarious check-in photos at each event. Let's just say he takes the selfie to another level!
Thank you, Justin for being an absolute pleasure to work with and for your outstanding efforts onsite at your events in 2016.

Abdallah Kasfah, South Western Ontario
Abdallah was recruited to assist with the Rise Real Estate promotion at ICON. From his initial interview, it was easy to see some of his top qualities: passionate and hard working.
From September to December, Abdallah worked weekly at the ICON building assisting contractors with deficiencies. He went above and beyond at his shifts, bonding with contractors and students onsite. He provided excellent communication daily with his onsite Event Manager and off-site Event Coordinator.
Thank you, Abdallah for dedication, passion, and communication at your first event with Tigris in 2016.
Staff Appreciation Gifts & Our Award Winning Team
Staff appreciation gifts boost team morale and can be as simple as a cash bonus or gift card. Show your team you care with some extra recognition!
Are you interested in joining the Tigris Team? We are always recruiting top brand ambassadors and promotional models across Canada. To apply, please send 2-3 photos and your resume to our recruiting department. If hired, you will have the opportunity to work exclusive events nationwide.  Who knows- you may even be receiving one of our staff appreciation gifts for 2017!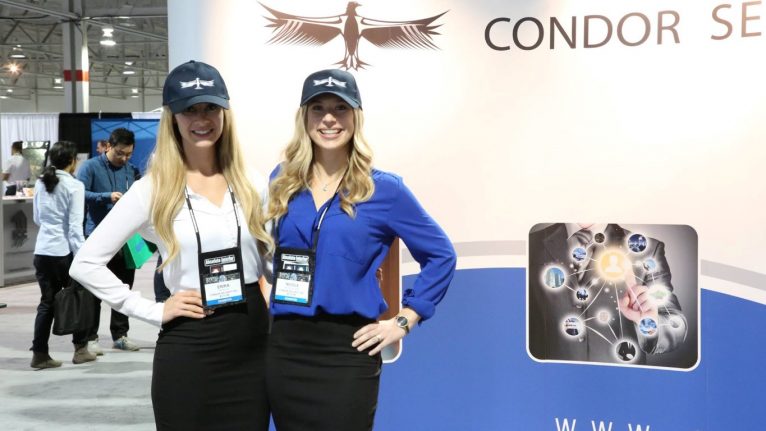 With the One of a Kind Christmas Show and Sale happening this weekend in Toronto, who's not excited!? With everything from artwork & clothing to jewelry & handicrafts, it's the perfect place to go for that one of a kind gift for that special someone this holiday! If and when you do go, you'll notice that most of these booths are not only run by the makers themselves but additional temporary trade show help. They are Brand Ambassadors, who were specifically trained to educate the thousands of consumers. In addition, they are trained to engage with those who attend this trade show about the unique products they represent.
Tigris has provided Temporary Trade Show Help, or "booth assistants" for countless shows across Canada over the years, including the following shows just to name a few:
Pacific Dental Conference at the Vancouver Convention Centre
Vancouver International Auto Show at the Vancouver Convention Centre
Toronto International Auto Show at the Metro Toronto Convention Centre
The Building Show at the Metro Toronto Convention Centre
CanWEA Windpower Expo at the BMO Centre (Calgary)
The Farm Forum at the Calgary Telus Convention Centre
Here's 5 reasons why you should hire Temporary Trade Show Help
1. You'll have more time to network while they run your booth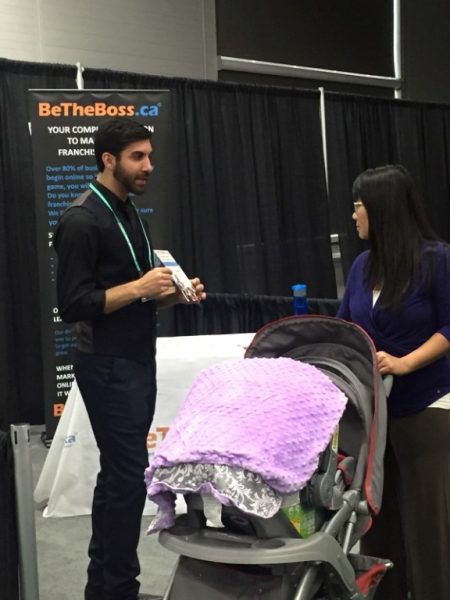 With Temporary Trade Show Help, no longer will you be stuck at the booth all day long. You now have free time to check out the rest of the show, distribute business cards, make professional connections, and conduct lunch meetings! If you have a smaller booth, simply hire one Brand Ambassador to give you that flexibility.
2. You can be in multiple trade shows across the country by using local staff
Since Tigris has rosters in all the major markets across the country, we provide Temporary Trade Show Help in any city you want. Can't travel to that city to train staff onsite? No problem! You can opt to lead online webinars or conference calls to train your staff instead. We even handle shipment of supplies and contract our local Event Managers to manage setup, staff training, and tear down. That way, you can have piece of mind knowing someone's in charge. Just give us enough notice to  collect availability, and you can choose your perfect Brand Ambassador. Because we provide a candidate deck of available staff, you will have enough information to make an informed decision.  Find the best brand ambassador for your brand!
3. You're an expert on your product but you're not a salesperson
You may know everything there is to know about your product and why it's the most amazing product out there, but can you sell it? Do you have the charismatic personality needed to not only engage but influence your consumers? At Tigris, we have over 1,500 staff boasting a wide range of talents, so we can find a Temporary Trade Show Helper who can talk the talk and walk the walk! Once they're trained on your brand, they become the brand expert and you can sit back and relax.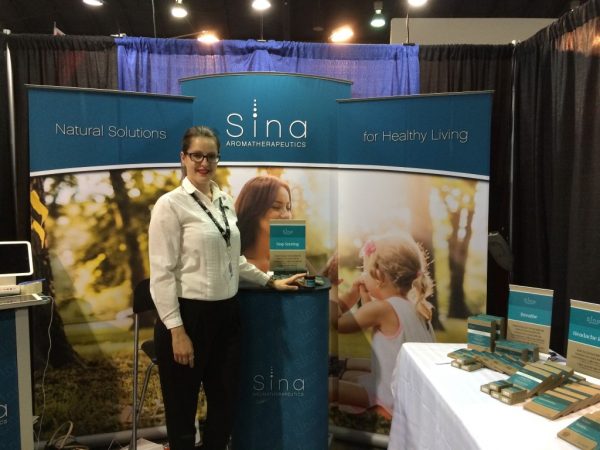 4. The staff can relate better to your target market

If your product is microwaveable bean bags to help women alleviate menstrual cramps, then you'll want a female Temporary Trade Show Helper to relate to your target market! If you're demonstrating a new product using the Oculus Rift, then you'll want a millennial who can carry on a conversation with the tekkies. By gearing the staff towards your target market, you can instantly improve the impression that your product makes on your consumers. With thousands of staffing options at Tigris, we can help you find the perfect Brand Ambassador to represent your brand.
5. They can assist with setup and tear down to save you time
Temporary Trade Show Staff are very experienced in set up and tear down, having worked in multiple trade shows setting up banners and displays. They can help ensure that your booth look sleek and professional without having you lift a finger.
Interested in trade show assistance? Contact Tigris today for a free, no-obligation quote on our event staffing services. In addition, we create and plan events for clients nationwide across Canada.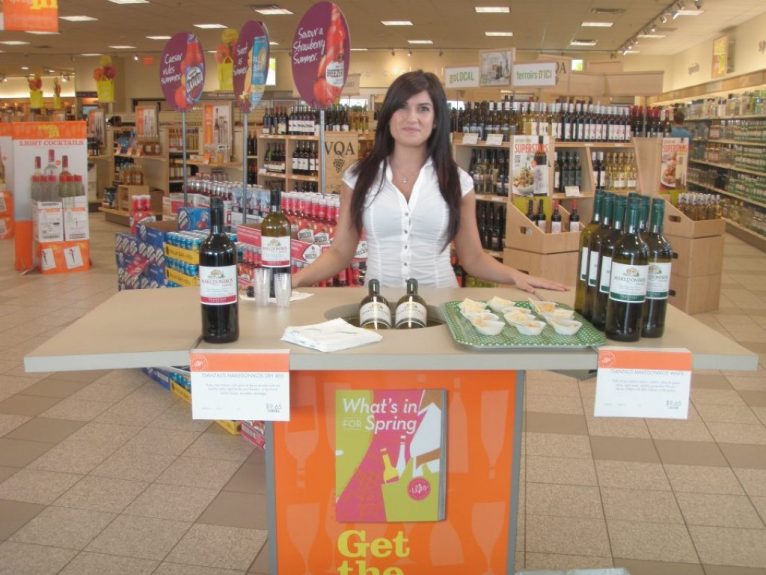 Did you know Tigris alcohol sampling promo models represent top brands across the country, for over a decade? We have hundreds of Smart Serve and Serving It Right certified promo models across Canada.
We provide top quality promotional models with sales experience for our clients. However, everyone loves to go down memory lane! Let's take a look at some highlight events throughout the decade. You may be familiar with some of the products we've sampled!
Successful Events Leveraging Tigris Alcohol Sampling Promo Models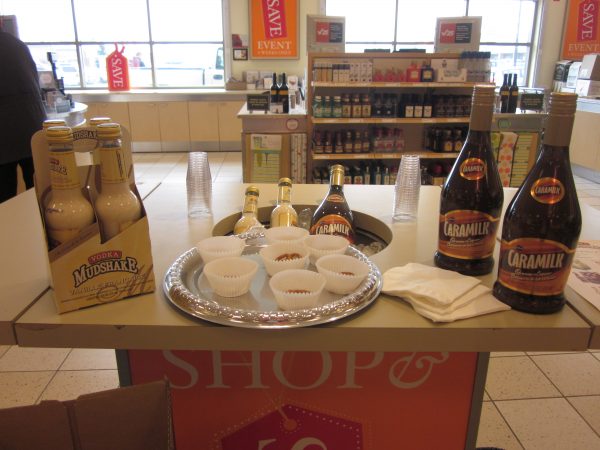 Churchill Cellars – If you've got a sweet tooth, you'd definitely like the cream coolers our team was sampling each holiday season. Caramilk Cream Liquor, French Vanilla and Chocolate Vodka Mudshakes were sampled at LCBO's across Canada. Incorporating a tasting into a holiday season is the perfect opportunity to increase sales. It's an affordable gift, and consumers can test the product firsthand.
The most important aspect of a liquor sampling is enticing new consumers. With so many options on the shelves, shoppers may never try a product simply because it's unfamilar. Most shoppers are interested in trying free samples, especially when the sampler is friendly and encouraging. In addition to spreading awareness, a secondary goal is to impact onpsite sales during and following a tasting.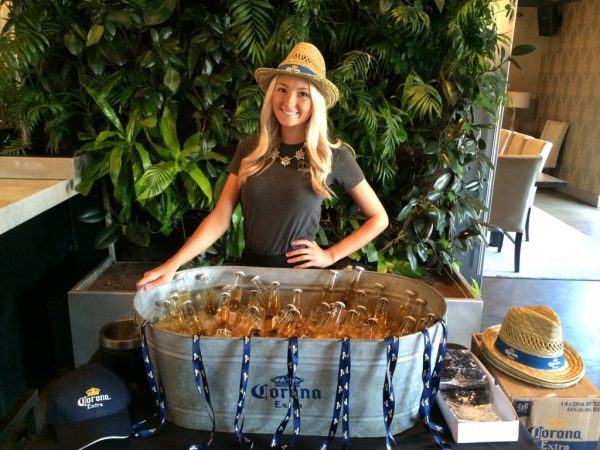 Labatt Brewing Company – Did you know Tigris has been working with Labatt since 2007? Labatt produces many products including Kokanee, Bud Light, Bud Light Apple and Corona. Because of the nature of the product, majority of these events are thrown at club/bar promotions and golf tournaments. We also host annual Super Bowl parties with Labatt, where guests can win a pair of tickets to the game and other great prizes!
Labatt products are well known amongst the public so our alcohol sampling promo models focus on creating memorable experiences for consumers. Of course, samples and sales are important. But each client has a different goal in mind. Our promotional models create a unique experience by handing out samples and free swag. At many events, the promo models join in on the fun by dancing, taking pictures and chatting with guests.
Appleton Estate Jamaica Rum & Phasion Estates Samplings with Promotional Models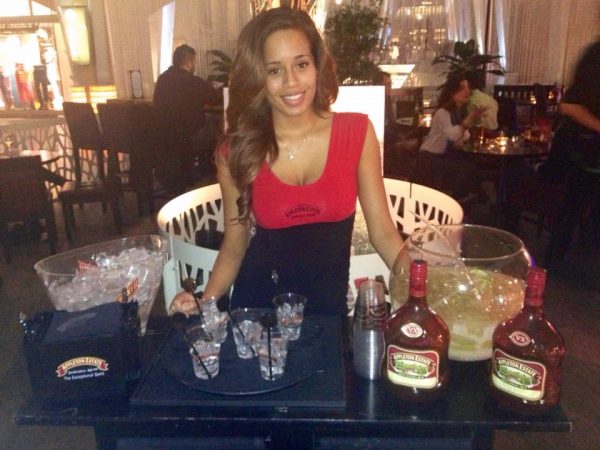 PMA Agencies –  For over two consecutive years, our alcohol sampling promo models were regularly representing PMA Agencies across Alberta and Ontario. These brands include Appleton Rum, American Honey, Aperol and Cabo Wabo.
The uniform for these events are especially important. Depending on the alcohol the staff were sampling, they were given eye-catching dresses and tops to stand out from the crowd. Everyone was excited to see the Appleton girls in their bright red dresses or gold shirts. The promotional models sold an image and lifestyle, along with the premium products.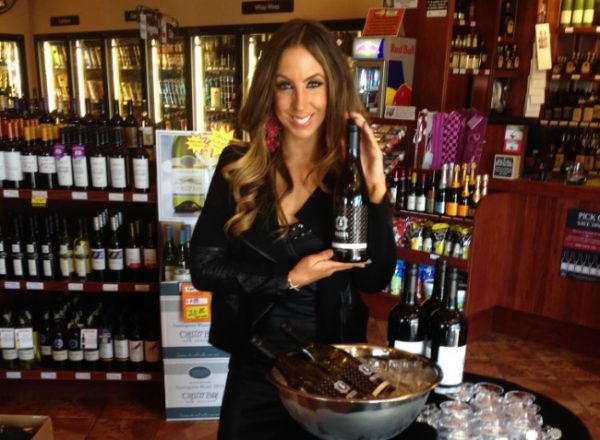 Phasion Estates – This brand wants you to "sip with style". Throughout 2014, our promotional models sampled for this one of a kind brand across Alberta and British Columbia. With wines named 'Tres Chic" and "Haute Couture", it was easy to get to get shoppers excited about the wine. Phasion Estates Winery combines wine and fashion, so it was crucial to create an elegant display, with an elegant promotional model.
Our promotional models created a stylish display to attract consumers. To go with the theme, a black table cloth is draped over the sampling table. In addition, acrylic diamonds were scattered next to the wine to create a dazzling display. People were attracted to the display immediately after entering the store.
How Our Alcohol Sampling Promo Models Prepare for their Sampling
To prepare for an alcohol sampling, it's crucial that the alcohol sampling promo model has a tasting kit for the event. What's in a tasting kit? This typically includes a table (if the store is unable to provide one), table cloth (in the brands colour and/or logo), sample cups, ice, and signage or decorations (such as acrylic diamonds). Some sampling events may require food pairing such as crackers, cheese and crackers to meet government regulations. In addition, the promotional models bring their smart serve certification and photo identification.
While onsite, a tasting report is completed. This report is used to verify the opening and closing inventory, less sample bottles used, to confirm the total sales. Calculating these numbers onsite allows us to report back accurately to our clients from event to event.
In advance of an event, our promotional models take extra time with their appearance. Hair must be clean, styled and worn down for every shirt. Makeup should be professional but not overdone. This includes eye shadow, mascara, blush and lipstick at all times. We want them to stand out from the crowd, not blend in! Think of them as walking and talking commercials. They need to look the part.
Securing Top Promotional Models for a Liquor Sampling
Whether you're looking to get your product into the hands of consumers at special events or liquor stores, having a consistent team to sample your products is important. This should include a similar appearance in staff along with their level of product knowledge, key messaging and sales experience. This will create a unique brand experience for your customers – and keep them coming back for more!
Start building your team of experts today. Contact Tigris for an event staffing services quote. We operate nationwide across Canada with over 1,500 events staff on our roster.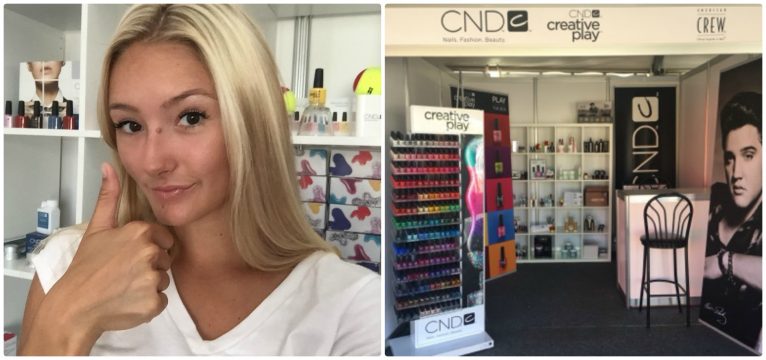 If you go to Rogers Cup 2016, you'll see lots of Toronto promotional models. Large scale events, such as Rogers Cup, present a perfect opportunity for brands to gain exposure. From July 23-31, our Tigris team will be hosting the Revlon booth in the Aviva Centre. This tennis stadium has a capacity of 12,500!
If you're unfamiliar with Rogers Cup, it's a well respected tennis tournament, organized by Tennis Canada. Since 1892, the best players in the world have competed on Canadian courts. This event attracts the biggest stars in tennis year after year – and some of the biggest crowds!
Toronto Promotional Models: What Do They Do?
Of course, when you're attending Rogers Cup, the main attraction is the tennis matches. But there's so much more to see! In the Aviva Centre, you'll run into big, splashy activations with well-known brands vying for your attention. You may also find yourself distracted by all the beautiful people including our Toronto promotional models.
So what exactly is a promotional model? Promo models are the beauty and brains behind the brands at these activations. They are visually appealing, and are best incorporated into events where image is everything. This may include bar promotions, publicity stunts, product launches and more. They are responsible for representing a brand, attracting consumers and relaying key messaging to drive awareness and sales.
How Revlon Incorporates Toronto Promotional Models to Enhance Their Brand
Revlon is participating in an initiative with Rogers onsite at Rogers Cup 2016. They booked a gorgeous team of Toronto promotional models from our roster to represent their brand. While onsite, our team handles booth setup and tear down. They are also distributing flyers, coupons and samples while delivering key messages to fans.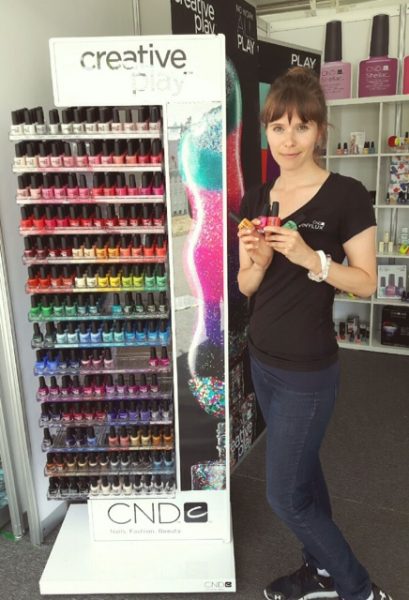 From the way their hair is styled to their make up and apparel, our promo models must maintain a specific image for the event. It's important that the team is not only attractive but that they image is aligned with the brand. This helps promotes a consistent look and feel for the event.
Although their sleek appearance will attract consumers, our team relies on their charm to engage them. Our Toronto promotional models strike conversations with as many people as possible to pump up booth traffic. They keep consumers engaged, relay key messaging and hand out swag – all of which contributes to the memorable experience a consumer will have with your brand.
At Rogers Cup, our Toronto promotional models are promoting CND Creative Play Nail Lacquer and American Crew. During the tournaments, our gals will hand out prizing and distribute samples of each product. Everyone loves free samples!
At first glance, it may seem strange to promote nail polish and hair products at a tennis event. but, it all makes sense when you learn more about the products at the booth. For example, CND Creative Play encourages 'playing' with different colours and celebrating different styles. Seems like 'playing' with fashion can relate to 'playing' on the court. The same can be said for American Crew. Their products maintain all types of hair for a smooth finish. This would be perfect for the players on the court!
Hire Toronto Promotional Models for Your Brand
Tigris has hundreds of promotional models on our roster. Not only in Toronto, but in over 15 markets across Canada including Calgary, Edmonton, Vancouver and Ottawa. From brunettes to blondes, bartenders and bilingual staff, we provide the best talent in the business for our client's brands.
If you're interested booking our team for your event, contact Tigris today for a free, no-obligation quote. We have dynamic personnel, promotions, marketing and events services available nationwide.

Are you interested in working as a promotional model for Tigris? We host group interviews nationwide every month! To apply, send 2-3 photos and your resume to recruiting@tigriseventsinc.com. For tips on how to ace your interview, read out blog post 'Get Recruited'. Our team continues to grow with talent – we have over 1,500 events staff on our roster across Canada.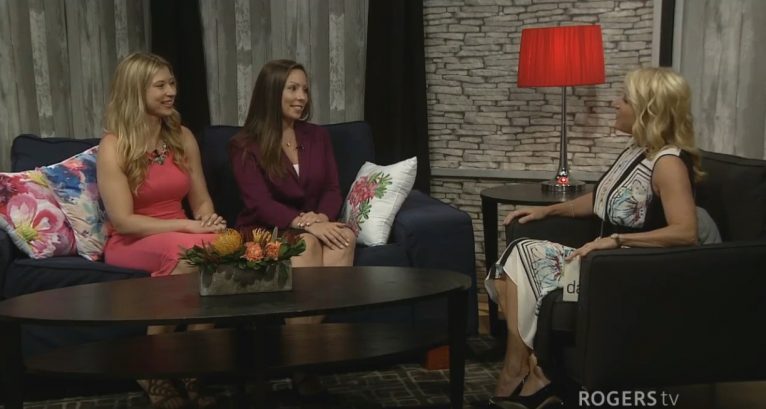 Tigris' CEO & Marketing Manager were featured on Rogers Daytime TV on June 2 to discuss our recent award wins and the event marketing industry. Daytime delivers a daily lifestyle show that shines the spotlight on everything Durham Region has to offer. Check out what we had to say below!
Tell us about Tigris.
Serena: Tigris is a brand experience agency specializing in brands, promotions, personnel and events. We have about 1,500 dynamic events staff from coast to coast.
You've won some pretty big awards recently! Can you share some?
Serena: Yes! It's been a really exciting awards season. We've actually been nominated and won the award for Top Choice, for the best 2016 Event Staffing Agency in the GTA.  More recently, I was ranked #95 on the W100 with Profit and Chatelaine Magazine. That was really exciting as well, it's based on growth in your business and we're ranked with some other really amazing female business leaders in the event marketing industry, as well as other industries!
That's remarkable! How long has Tigris been around?
Serena: We were founded in April of 2004, so it's been 12 years.
12 years and a whirlwind of success for you! I went to your website and you have some great information on how to help businesses flourish. One thing that really caught my eye, which is important for business owners, is capturing a market survey. Talk a little bit about how people could capture information, and get people to fill it in.
Nicole: It's definitely easier to lead with an incentive – even a $10 Tim Horton's gift card to make it worth their while. A lot of the surveys are conducted on iPads, or sometimes we could give them a card for them to do it at home, so I think an incentive is a big one. Also our staff are very encouraging and welcoming, which makes it easy to engage in conversation with the target demographic.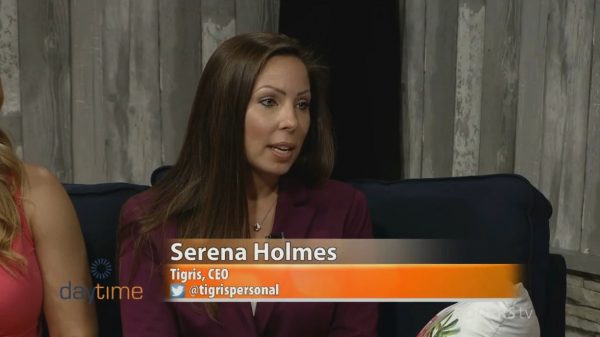 One of the other things you do is parties and events. Let's talk a little bit about launching a product and having a party for that. What are some of the tricks and things we need to consider, and what do you do?
Serena: Well, we do as much or as little as any client wants us to do. It could be as simple as staffing an event with a couple of people, or it could be planning a party, conference or product launch.
We were actually involved with Samsung a few years back when they launched the Samsung Galaxy, which was one of the hottest smart phones around. We basically created an idea for "Tell Us Your Most Brilliant Summer Story". So instead of just showcasing the handset in the stores, they captured people telling their most brilliant summer story which also showcased the video features on the handset. We were sold out of the handsets within a couple weeks, it was a very successful program!
That would be an example of a unique way that we can get people to experience the product, instead of just talking to them about it, or seeing an ad, or something like that. I think people are really becoming desensitized to ads, there's just so much out there, so I think it's almost gone grassroots now where people have to make that personal connection and have a memorable experience if they are going to invest in a brand.
Speaking of investing in a brand, and having a memorable experience, you really have created a remarkable team. In your opinion, what is the importance for businesses to get that right team in place, and how do you go about doing that in the event marketing industry?
Serena: Nicole has been a great example of someone who has started as one of our events staff, who has now grown to come on board in our office as a Marketing Manager, and she's literally done a bit of everything. For us, when we are interviewing people, Nicole actually takes care of that. We'll interview, it could be anywhere between 8-10 people at once in group setting all across the country, and we're looking for a range of traits, but Nicole can talk more about some of the things that she looks for, since she handles that scope of the business.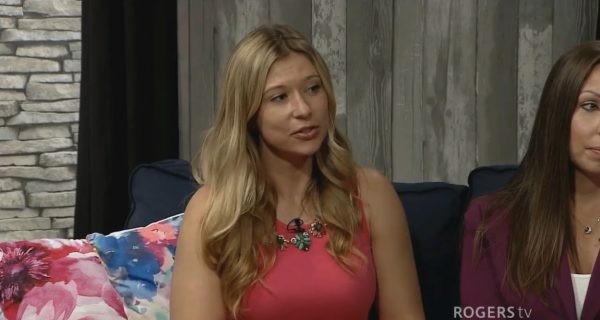 Nicole: Yes! Actually, our next set of interviews for promotional models and brand ambassadors is Wednesday, June 8th. I host with another coworker, and we're essentially just looking for outgoing individuals. Candidates will send in their resumes and photos, and even though a photo can say a thousand words, we like to meet them in person and make sure they are reliable, trustworthy, outgoing, work well with a team, and are able to communicate a brand and act like a chameleon, because as an events staff for Tigris, it's different roles, different jobs… you get to wear many hats!
What has been one of your most exciting and memorable events that you've done in the event marketing industry? 
Nicole: I would say our Motorsport events, that we do every long weekend in the summer. It recently happened in May, so we had over 30 events staff that would drive shuttle karts, and take campers from their campsite all the way over to watch the NASCAR races. This event is really exciting because we have a large team out there, it's a great bonding experience for the team, enjoying the sunshine at the first long weekend of summer. We're also raising money for Jumpstart t, a Canadian Tire charity.
That's a great charity! And we were talking about some of the work you do in the survey component, you said you do a lot for airports as well. Tell us more about that.
Serena: We have done a lot of work in different capacities, but the airport was one, a really big client that we worked with from 2008 to 2012, where we liaise with Hotspex that designs the actual studies. It could be customer satisfaction or brand perceptions. Our staff actually get their police checks and go post-security with special documentation at the airport, and we may collect anywhere from 5,000 to 20,000 surveys in a week to two week time span. If you've been to the airport in the last ten years, you'll notice that there have been a lot of changes, a lot of which has come out of the research that we've gathered based on which type of restaurants people like to eat at, what type of stores they like to shop at, what they like at the airport, what they dislike at the airport, so they can continue to make improvements.
Leverage Your Brand With Experts From The Event Marketing Industry
If you're interested in connecting with Tigris, get a free quote now! We operate in over 15 markets across Canada including Toronto, Montreal, Calgary and Vancouver. Tigris is also able to providing staffing support in niche markets including Charlottetown, Saskatoon and Windsor. Learn more about the event marketing industry and how we can help bring your brand to life with the power of presence.
Watch the Interview on Rogers Daytime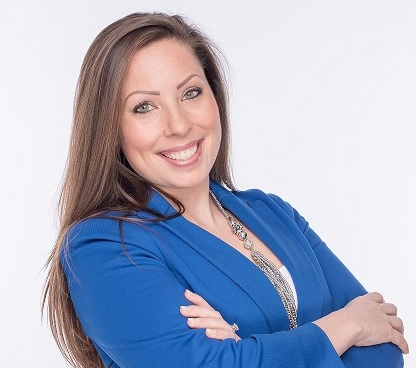 Meet Serena Holmes, W100 Top Female Entrepreneur
An entrepreneur is a person who organizes and manages any enterprise, especially a business, usually with considerable initiative and risk (dictionary.com). Serena Holmes took a risk in 2008 when she bought out Tigris from her partner, who decided to leave the business she had founded 4 years prior, for personal reasons. Serena embraced positive forward thinking, which includes believing yourself, trusting your instincts and seizing opportunities.
Now 9 years later, female entrepreneur Serena Homes has tripled the sales of Tigris, manages 4 full-time employees at the head office, supported by regional account managers in all major Canadian cities. The roster of events staff has grown from 300-400 staff to over 1,500 and this small business just continues to expand. It's no wonder Serena was recognized by the W100 and has achieved many other awards and recognition to date.
2016 W100: Celebrating the Canadian Female Entrepreneur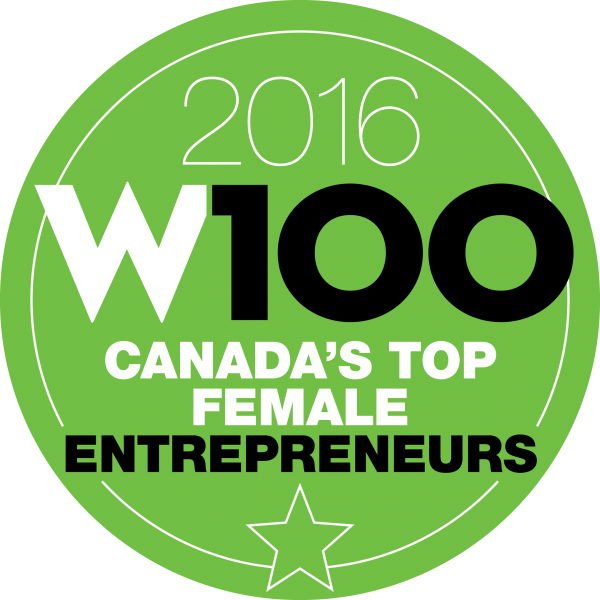 Did you know Canada is the emerging hot spot for female entrepreneurs? It makes sense that there would be an entire awards program to celebrate the achievements of these women. The PROFIT/Chatelaine W100 ranking and awards program is Canada's largest celebration of entrepreneurial achievement by women. The W100 List for 2016 became public on May 16th – and Tigris' CEO, Serena Holmes was included among 99 other trail-blazing women.
"The members of the 2016 W100 each possess the talent and tenacity to start and grow a successful business," said James Cowan, Editor-in-chief of PROFIT and Canadian Business.  "Their remarkable achievements serve as proof that ambitious, risk-taking female entrepreneurs are integral to the growth of the Canadian economy."
The PROFIT/Chatelaine W100 ranks female entrepreneurs by a composite score that considers the size, growth rate and profitability of the companies they own and manage. The full list will be available year round at http://www.profitguide.com/w100 and on www.chatelaine.com. In addition, winners will be honoured in the June 2016 issue of Canadian Business Magazine which is circulated nationally to over 700,000 subscribers.
"I am humbled and honoured to be recognized among so many inspirational women. When I learned about the W100 back in 2008, I made it a personal goal and mission to eventually be included on this list. It took 12 years in business and 8 years since to earn this achievement but I am proud to have finally made it. It is exciting to share this with my team; without them, none of this would have been possible", says Tigris CEO, Serena Holmes.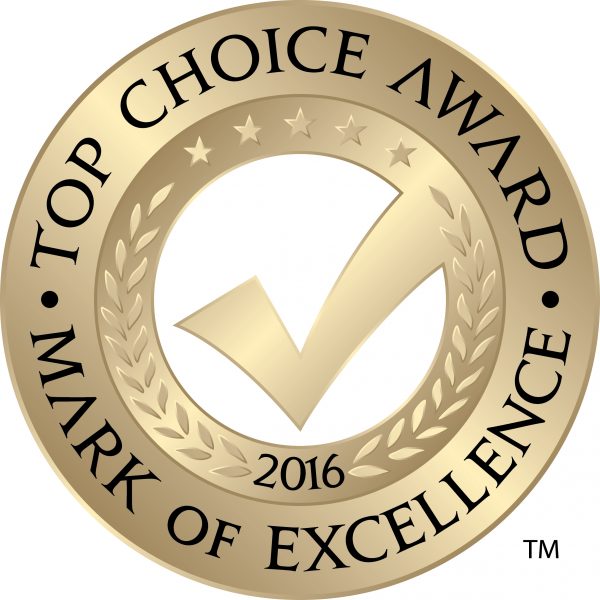 Along with being ranked amongst the country's most successful entrepreneurs, Tigris is the Top Choice Award Winner for Best Event Staffing Agency of 2016. This past year, Tigris was been shortlisted to Canada's Top 100 List with the Globe & Mail and was nominated for the Best Employer Branding category with the Canadian HR Awards alongside The Keg and Molson-Coors. In 2014, Tigris won a sales achievement award at the Ultimate Wealth Weekend and was nominated in the marketing and advertising category for the Notable Awards in Toronto.
Tigris recently celebrated their 12th year in business, operating in over 15 markets nationwide and has plans to expand to the United States by the end of the year.
Connect With the Female Leaders of Tigris
There are many ways to get connected with Tigris! If you're interested in working as a dynamic events staff, please submit 2-3 photos and your resume to recruiting@tigriseventsinc.com. If you're interested in learning more about how our experiential event staffing services can be beneficial for your company, contact Tigris at 416-283-9119 or send an e-mail to info@tigriseventsinc.com.